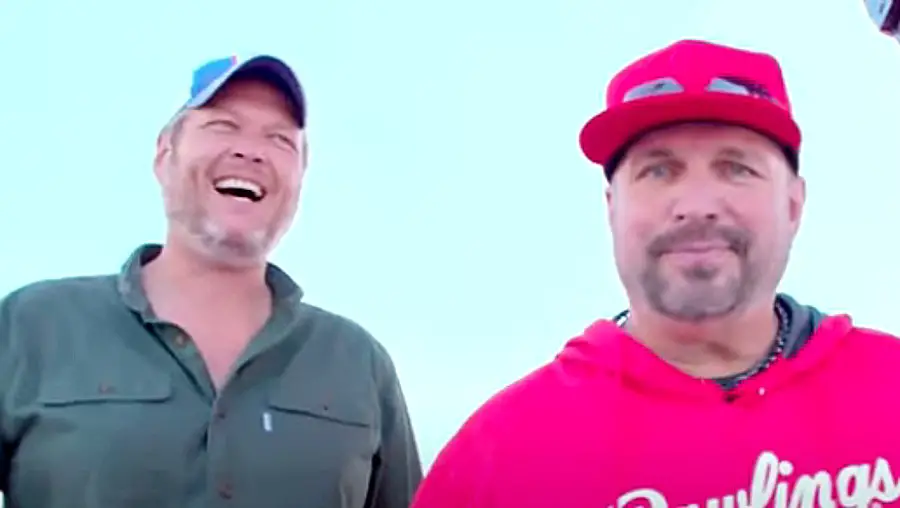 Garth Brooks counts Blake Shelton among one of his good friends, so it's no surprise that Garth is thrilled that his fellow Oklahoma native is engaged to Gwen Stefani, after five years of dating.
"I've always described Blake as my second-favorite female singer," Garth said with a laugh on Access Hollywood. "I love Blake. You're with Blake for 20 seconds, and you know all about him. Blake's one of those guys that's got no secrets. He's not going to change on you. He's going to be the same, which is a blessing. So I think she's extremely lucky. I love that man. I really do, and I would love to get a chance to know her, because good people hang with good people, and he's solid."
Garth recently released his latest album, FUN, which includes a duet with Blake, on the uptempo single, "Dive Bar." The record also includes a collaboration with Charley Pride, on "Where the Cross Don't Burn," although Garth waited a decade before asking the 86-year-old to sing with him on the track — and might still be waiting if not for an inaccurate internet story that said that the trailblazer had passed away.
"I slammed the laptop and Miss Yearwood said, 'What's wrong?'" Brooks recounted to the Washington Post. "I said, 'Charley Pride passed away. I blew it. I've had a song I wanted to sing with him for 10 years and my lazy a– didn't get it done. It's just one of those things where I just blew my chance."
FUN also includes other inspirational songs, part of why the father of three ultimately decided to release the project amid the challenges of 2020.
"'The Courage of Love' says 'If we're gonna give our children a future that is bright, then truth must be the answer and love is the light,'" Garth shared. "'Message in a Bottle" goes with, 'I guess I've always been a dreamer, but I've seen where dreams can lead, for in the hearts of all believers, there's only possibility.'"
"It's a message that this world would run a lot more smoothly if we just could find the patience," he added. "It's the empathy and the sympathy for what someone else is going through."