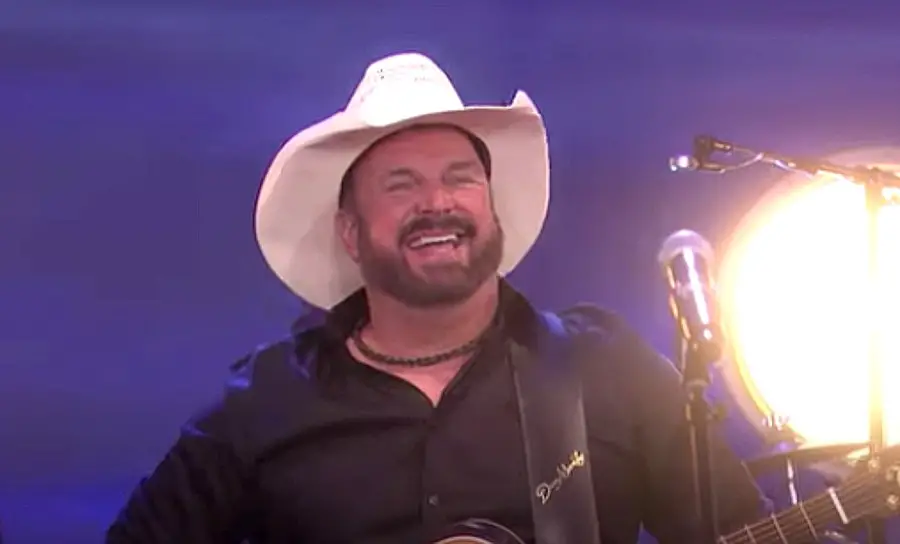 Garth Brooks had to delay the live preview of his upcoming Fun album last week, after he suffered a hand injury while working on his farm. The Oklahoma native and his wife, Trisha Yearwood, shared details of the accident, while speaking on the Bobby Bones Show.
"I was loading the chop saw," Garth recalled. "I grabbed the back end of it, which is the safe end of it, and the thing collapsed on me. When I felt it, I didn't want to see it, so I just took my right hand and kind of felt my left hand to make sure all my parts were there. Thank goodness. I got lucky. Everybody's been so sweet to ask. It's just going to be black and blue for a while, but I got really, really lucky."
This is far from the first time the Country Music Hall of Fame member has injured himself, at least according to his wife.
"This is not the first time," Trisha admitted. "This is the only one that everybody knows about. He'll come to the house … the last time he had blood over his eyebrow. I'm like, 'What happened.' He said, 'Oh, I don't know. I'm fine. I did this a few hours ago. I'm sure it's fine.' He really needed a stitch but he didn't get one. He's careful, but stuff happens on a farm. I'm always happy when he comes back with all his limbs."
Fans were especially disappointed to delay the album's listening party, since it was going to be the first time they could hear "Shallow," originally recorded by Lady Gaga and Bradley Cooper, which Trisha says they recorded thanks to Garth's weekly Inside Studio G Facebook series.
"It started out with that Facebook Live thing," Trisha shared. "It was a request, and we just did a little piece of it. Then we did it again, because we did another live request thing; we did the CBS thing. A lot of people were saying you should record it. I really think Garth said, 'OK, we'll record it for the album,' but really thinking it wouldn't make the album. It was the biggest hit for them in 2018. Why would we do this? And then we just really liked how it came out."
"You can't ignore people when that many voices say, 'Do something,'" added Garth. "I was honest with them, saying we'll cut it, knowing it would never make the record. 15 seconds into this thing … the goosebumps were all over you, knowing what was coming when the queen steps up to the mic. I was in the room when it happened. You saw all the players totally change, and you can hear it on the record. It went to some other level."