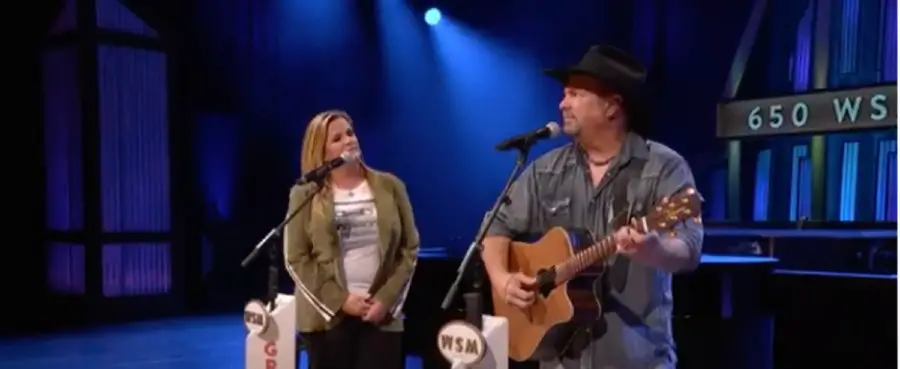 Garth Brooks and Trisha Yearwood are just two of the numerous artists who have been added to the upcoming Grand Ole Opry: 95 Years of Country Music anniversary celebration. The show, which will air on Sunday, February 14 on NBC, will also include performances by Dolly Parton, Carrie Underwood, Kelsea Ballerini, Dierks Bentley, Kane Brown, Lady A, Little Big Town, Old Crow Medicine Show, Darius Rucker and Marty Stuart. Blake Shelton and Brad Paisley will serve as the event's host.
"This special is going to capture so much of what makes the Opry a one-of-a-kind entertainment experience," Dan Rogers, Opry Vice President and Executive Producer, says of the two-hour event, which will also show archived footage, including performances, appearances and a behind-the-scenes look at the Opry over the years. Lady A's recent invitation to join the Grand Ole Opry will also be shown.
"10-year Opry member Blake and 20-year member Brad [will] guide us through a powerful Opry debut, an Opry membership invitation given to one of country's most awarded vocal groups, performances of some of today's chart-topping hits and timeless songs that have rung out from the Opry stage for decades," he continued, "and a look back at cherished members of the Opry family and musical moments that have come to define the Opry we know today."
The Grand Ole Opry continued its long-standing tradition of weekly shows during the pandemic, even though the Opry House was closed to the general public. Brooks and Yearwood were among the artists who performed to an empty Grand Ole Opry, but whether or not there is anyone in the audience, being a member of the Grand Ole Opry will always be a highlight of Brooks' life and career.
"It's been an honor," Garth said, while on his Facebook Live show, Inside Studio G. "I've said it a million times and I'll say it again: it was one of the greatest honors, if not the greatest honor, I've ever had bestowed upon me as a country music artist. I feel lucky to be a part of that family."