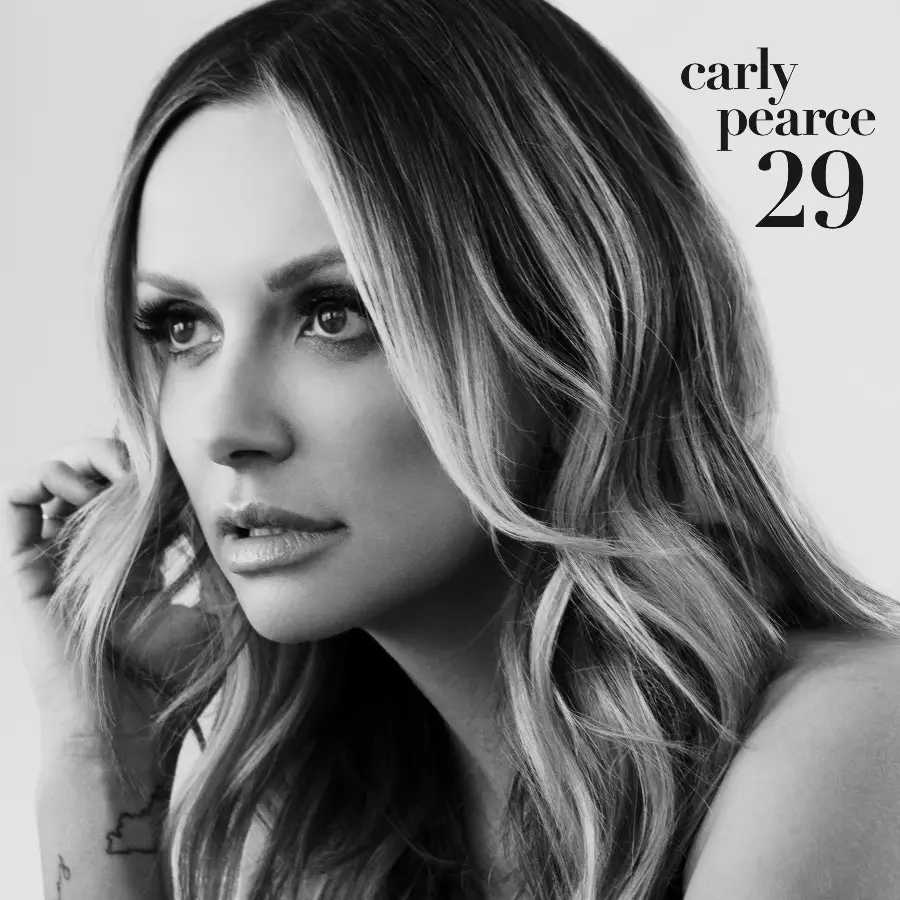 Carly Pearce just announced a surprise new album! The seven-song project, 29, is a result of Pearce experiencing so many highs and lows, both personally and professionally, including the passing of her producer and friend, Busbee.
"Losing Busbee was such a moment of upheaval," Pearce says of his loss. "He had believed in me…carried me… brought me through everyone getting deals around me… because he knew something I couldn't see: that it would happen."
It was while working on her No. 1 duet with Lee Brice, "I Hope You're Happy Now," that Busbee began showing early signs of the brain cancer that would ultimately take his life.
"As we're doing Lee Brice's vocal on 'I Hope You're Happy Now,' he has that first seizure, and my creative world started to unravel," Pearce shares. "It's scary being out there on your own, and I think the response to the song… going platinum, being nominated for Song of the Year… That was a little bit of him telling me to stand tall, to walk forward, to know my life and my writing would carry my voice and my dream forward."
In a video posted on social media, Pearce opened up about the inspiration for all seven songs on 29.
2.19.21
Pre-save now: https://t.co/RhVaJLhJiN pic.twitter.com/Xicc0SZtJQ

— Carly Pearce (@carlypearce) February 4, 2021
"Losing Busbee was a jolt," Pearce says. "He was my champion before anyone knew me. And then came the divorce, something I never saw coming. In that grief, I started swimming to save myself from the sadness, then realized I found something even deeper. 29 came from that recognition. I got back to myself, to my roots, to my truth, and then the songs just kept spilling out.
"I was so excited, that I wanted to share them with you, to introduce you to who I've always been, and who I am as an artist, a person, and a woman who understands." she continues. "I am Carly Pearce. This is 29."
Pearce spent 2020 unexpectedly at home, a painful season for the Kentucky native, who loves nothing more than to be with her fans. But the time off the road did give Pearce more time to work on music, which is how she was able to finish 29 so quickly.
"I feel lighter reflecting on the last year and pouring my soul into this music and wanted to share it in hopes that others to will take from the songs what they need," Pearce says. "With streaming and social media, we were able record music for the sole purpose of letting my fans know where my heart is without any expectations. That's a kind of immediacy that makes making records really exciting. I can't wait to share 29."
29 includes her current single, "Next Girl" and "Show Me Around," written about Busbee. See a complete track list below. 29, which will be released on February 19, is currently available for pre-order here.
29 Track List:
1. "Next Girl" | Carly Pearce, Shane McAnally, Josh Osborne
2. "Should've Known Better" | Carly Pearce, Jordan Reynolds, Emily Shackelton
3. "29" | Carly Pearce, Shane McAnally, Josh Osborne
4. "Liability" | Carly Pearce, Shane McAnally, Josh Osborne
5. "Messy" | Carly Pearce, Sarah Buxton, Jimmy Robbins
6. "Show Me Around" | Carly Pearce, Emily Shackelton, Ben West
7. "Day One" | Carly Pearce, Shane McAnally, Josh Osborne, Matthew Ramsey