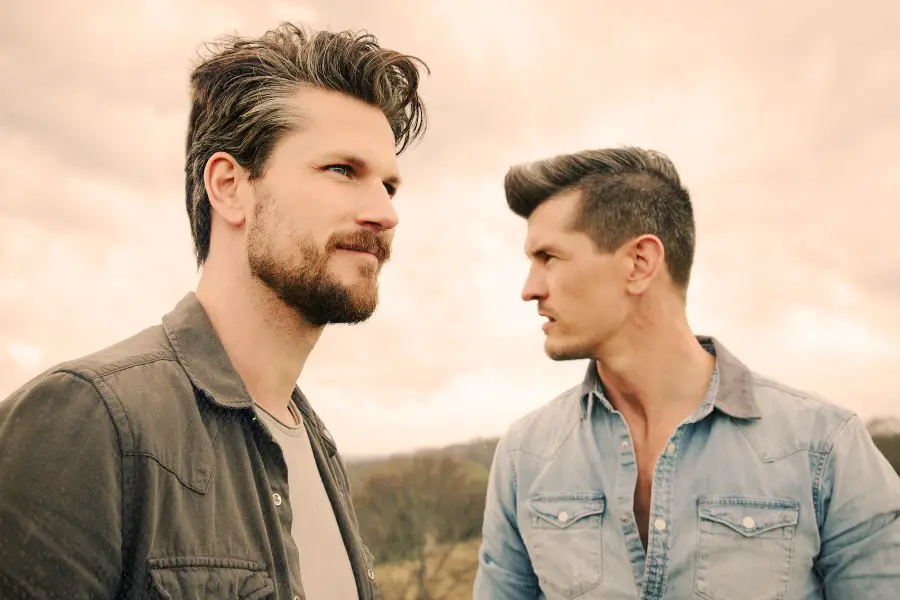 It's the end of an era for High Valley. The sibling duo, made up of Brad and Curtis Rempel, made a name for themselves in their native Canada, before relocating to Tennessee, where they released one album, Dear Life, and two EPs, Farmhouse Sessions and Grew Up on That, and had two hit singles, "Make You Mine" and "She's With Me." But in a lengthy statement, which was shared on social media, Curtis announces that he is leaving High Valley, and returned to Canada to focus on a new business, this time with his wife, Myranda.
"From as early as I can remember, my older brothers were in a band called High Valley," Curtis begins. "I grew up watching them practice, going to their shows, and seeing them develop overall. Finally after 10 years, I was able to join the band! Since then, I've been able to meet so many great people, collaborated with my hero Ricky Skaggs on multiple occasions, performed numerous times at the iconic Grand Ole Opry, toured non-stop, received number 1's and gold & platinum records, and best of all celebrated country music with fans all across the world. I'm so thankful to have made all these memories!
"On the road and touring with High Valley is the only life I've ever known since I was 15 years old," he continues. "It has always been my older brother Brad's passion, and during quarantine my wife and I have had some amazing time to discuss our own passions, dreams, and goals. We began to think of things we could start from the ground up and build together. As a result, I have decided to step away from High Valley and have moved back to our hometown in Alberta to start a business with my wife Myranda, Curt + Myr Co."
Brad also spoke out about his younger brother's decision in their joint statement.
"Not many people get to say that they traveled the world with their brother, but I am incredibly thankful that is true for me," he begins. "I love every member of our band, and I love sharing all the highs and lows with all the guys on stage. But being able to share them with my brother is a gift that I will always remember Moving forward, I am so excited for you all to hear our new music and come see us on the road! I am also excited for Curtis to start his new career and dive in to his own passions.
"Our mantra has always been 'faith, family, and country music,'" Brad continues. "And so I fully support any member of our band who wants to step out in faith and do what they know is best for their family. I wish Curtis nothing but the best, and I promise to keep at least one extra mandolin on the bus next time we're in Alberta…just in case he feels like joining us on stage."
Curtis previously admitted he was enjoying his unexpected time at home, because of the pandemic.
"We're doing great," Curtis told Everything Nash last year. "We're kind of out in the country here and just hanging out with the kids on the farm. Obviously a Ninja warrior class and gymnastics got canceled for our kids, so they're not getting to do that kind of stuff. They're not seeing their friends as much, although that's starting to change just a little bit now. But we have farm chores and picnics and collecting the eggs and all kinds of projects that I'm working on at home.
"I honestly, I've not been bored at all yet," he added. "There's always something on the to-do list. So, it's been good. It's been great family time."
Read the entire statement here. Keep track of updates at HighValleyMusic.com.