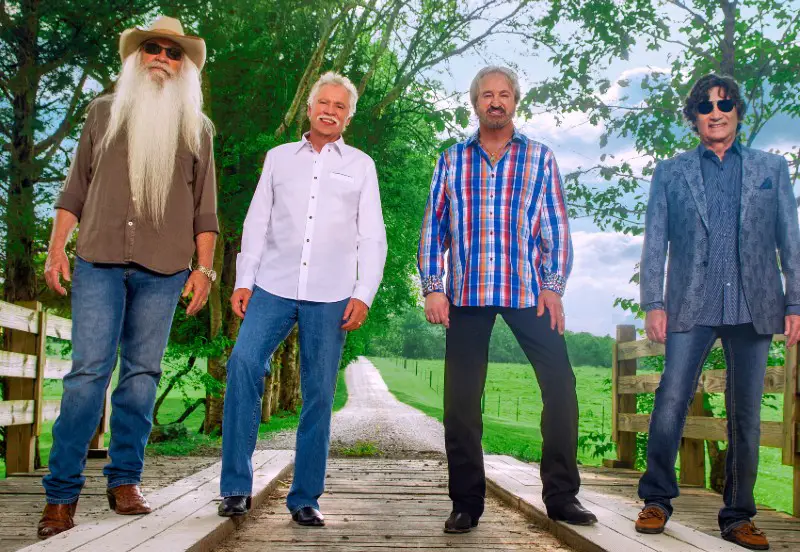 The Oak Ridge Boys' new album, Front Porch Singin', is out! The record, which was inspired by and recorded during the pandemic, is in many ways the historic quartet's return to their roots, with their rich harmonies and their message of hope and positivity, even amid the challenges of the previous year.
"Dave Cobb, our young producer, calls us his crazy uncles, but he loves for us to record gospel," The Oak Ridge Boys' Joe Bonsall tells Everything Nash. "Because, in his words, of all the different artists to come through that door at Studio A, and there was everybody from Chris Stapleton, The Blues Band, everything he produces, he says, 'You guys are the only ones that can come in here, gather around a microphone and sing gospel and sing that harmony.' That's our heritage; that's our background. That's what we started singing, Southern gospel.
"So he said, 'Give me a song that you guys maybe not have even necessarily ever staged, but you sing it all the time. Say you're getting ready on the bus and you're getting ready for a show, and one guy starts to sing a spiritual. Give me a song like that. I said, 'How about this?'" Bonsall recalls, launching into "Swing Down Chariot."
As soon as the Country Music Hall of Fame members started singing the song, Cobb knew they had struck musical gold.
"He went, 'Oh my God, that's it. Let's do it," Bonsall recounts. "And it came out so cool. I even sang the verses, and it's kind of funny, because it's a little lower register for me … I don't even normally sing down there. So that was kind of fun for me too. And he wanted me to do it. He wanted my inflection. He didn't care about where the pitch was. He wanted my inflection on it.  I gave him my inflection, and we gave him 'Swing Down Chariot,' and yes, people are loving it. We put it on stage a couple of times already and told that little story about how we recorded it."
The Oak Ridge Boys performed their annual Christmas show last year at the Opryland Hotel, but were otherwise absent from their fans — and each other — for most of the last 14 months. For them, recording Front Porch Singin' became as much a necessity for them as for their fans.
"I think it's something that we felt we wanted to do, and needed to do in the middle of that pandemic,"  Bonsall says. "As we all know, everybody in the music industry was shut down. It didn't matter if you played first string violin for the symphony, if you were a hip hop artist or a country star or a Broadway star, you were told to go home. Your switch has been flipped off now. No money, no income for all your people, and just sit this thing out and try not to get sick, which was just unbelievable. I just turned 73 years old, and I've never seen anything like it in my life."
The Oak Ridge Boys, who will perform on the 2022 Country Music Cruise in January, are also back on the road, with no plans of slowing down anytime soon.
"We are starting to crank … Through the end of the year is gangbusters,"  Bonsall says. "I think we've got 92 dates booked from now until the end of the year. And I think anybody would love to trade schedules with us, because we're going to be out there singing. We're so excited to get back."
Front Porch Singin' is available for purchase at OakRidgeBoys.com.