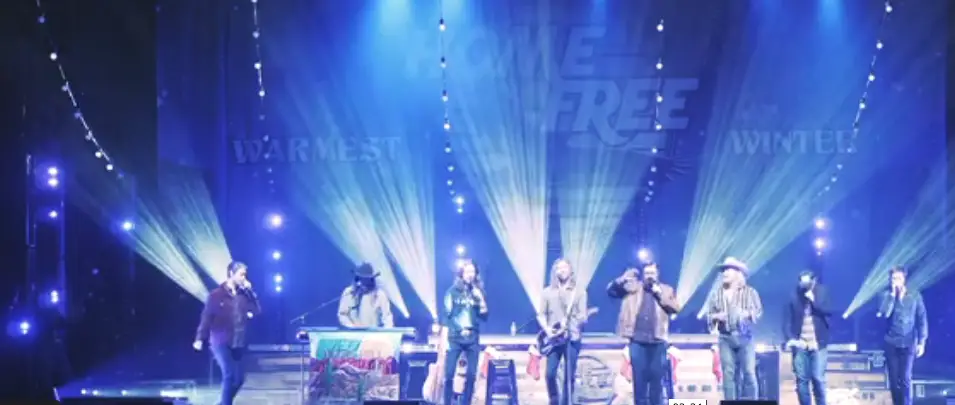 Home Free and Texas Hill are back with another collaboration! The all-vocal group and the country supergroup just released "Dreamer," a song that was originally included on Home Free's 2019 Dive Bar Saints album. Home Free and Texas Hill recorded the video while on the road for a few shows together last year.
Home Free and Texas Hill performed the song together in December at the Ryman Auditorium, when Texas Hill joined Home Free for the Nashville show, as part of Home Free's Warmest Winter tour. Portions of that show are featured in the "Dreamer" video.
Home Free and Texas Hill previously collaborated together on the Christmas classic, "Go Tell It On the Mountain." Texas Hill also joined Home Free for a few stops on their Warmest Winter Tour, and Austin Brown hints there will likely be more collaborations coming from the two talented acts in the near future.
"I really did appreciate the vibe," Brown shares. "It was so cool getting together. It felt like nobody had an ego. We were all just happy to hang out and talk about life and make good music. It was just so chill, and I just can't get enough of that. Especially in this town where everybody here has just got their work glasses on all the time. You know, they got their 'I'm going to work' hat. It felt like we were hanging out and making music in a way that just doesn't happen very often … It makes me want to do so much more stuff, 'cause it was just a fun hang."
Home Free and Texas Hill might have never even collaborated together — on anything — if Tim Foust hadn't stopped by a local venue when Texas Hill was performing in Nashville.
"It actually all started with Tim showing up at one of our very first shows that we were putting on a full band at the Nashville Palace," Texas Hill's Craig Wayne Boyd recalled to Everything Nash. "We were doing like a five-week stint there, and he showed up, via an invitation from a friend of ours, a mutual friend. And the rest is what has happened. We were fans of their music and vice versa, and it's been fun."
Home Free will resume their Dive Bar Saints Tour on February 17 in Greensboro, North Carolina. Texas Hill's debut album, Heaven Down Here, will be out on January 21.