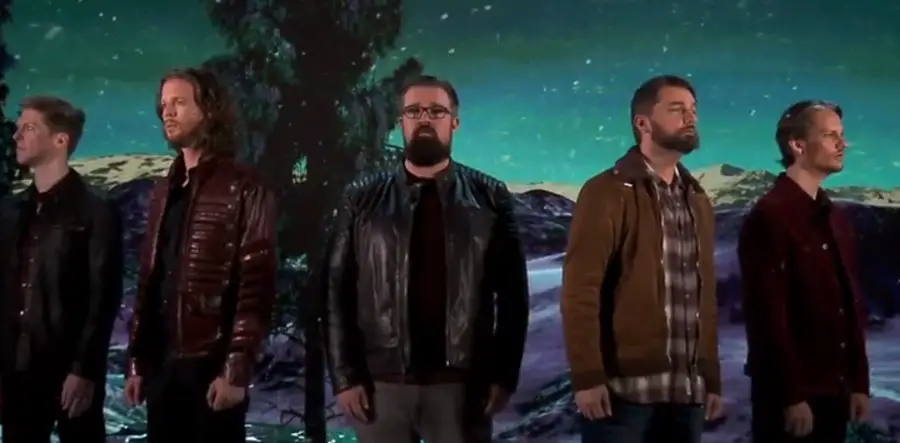 Home Free will head out on a holiday tour this year! The five-man group shared, via Patreon, that their Warmest Winter Tour would kick off on December 1 in Evansville, Indiana.
"It's time to get the band — and you — together again," Home Free announced, adding that all of the band members were reuniting in Nashville for two weeks of music videos and photo shoots.
"It'll be the first time everyone has been together since the Warmest Winter holiday special taping in early November 2020," Home Free said. "Since November, the light at the end of the tunnel of the pandemic has gotten brighter for many of us. Most of Home Free is completely vaccinated for COVID-19, and we're beginning to see a sense of confidence for the latter half of 2021."
We've missed performing for y'all so much this past year, probably even more than you've missed seeing live music!

It gives us the most tremendous pleasure to announce our 2021 WARMEST WINTER TOUR!!

Pre-sale is available to Patrons right now! pic.twitter.com/j6CpvzTzRp

— Home Free (@HomeFreeGuys) April 26, 2021
Home Free had a Warmest Winter Tour planned last year, to coincide with their Warmest Winter album. The tour was unfortunately canceled because of the pandemic. The extra time gave Home Free the opportunity to make their upcoming Warmest Winter Tour even better than originally planned.
"In some ways, it will be the tour we would have done last year," Home Free shared. "But it will feature so much more new music for you all as we've released SO MUCH music since the last time we performed for you live."
Home Free will perform their first live show in a year this Saturday, May 1, when they take the stage at the Grand Ole Opry. They just released a new collaboration, this time with Jeffrey East, of the powerful song, "People."
Home Free will kick off their rescheduled See a complete list of Warmest Winter Tour dates below. Keep track of updates, and purchase their Warmest Winter album at HomeFreeMusic.com.
Dec. 1 | Evansville, IN – Victory Theatre
Dec. 2 | Knoxville, TN – Tennessee Theatre
Dec. 3 | Atlanta, GA – Atlanta Symphony Hall
Dec. 4 | Mobile, AL – Saenger Theatre
Dec. 5 | Charlotte, NC – Ovens Auditorium
Dec. 7 | Nashville, TN – Ryman Auditorium
Dec. 9 | Branson, MO – Mansion Theatre
Dec. 10 | Kansas City, MO – Uptown Theatre
Dec. 11 | Tulsa, OK – BOK Center Century II
Dec. 12 | Dallas, TX – Majestic Theatre
Dec. 16 | Salina, KS – Stiefel Theatre
Dec. 17 | Sioux City, IA – Orpheum Theatre
Dec. 18 | Mankato, MN – Mankato Civic Center
Dec. 19 | Grand Forks, ND – Alerus Center