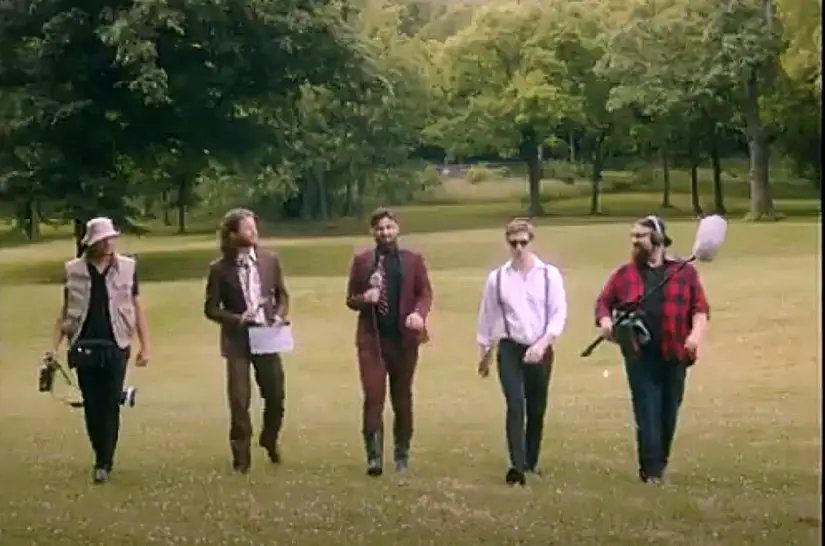 Home Free might have outdone themselves with their latest video, with a cover of Huey Lewis and the News' 1982 hit, "Workin' for a Livin'." The all-vocal group channeled the comedic Will Ferrell film, Anchorman, for roles in their new video, cast as Cameraman Tim Foust, Electrical Adam Rupp, Sound Guy Rob Lundquist, Director Austin Brown, and Anchorman Adam Chance.
Home Free is known not only for their tight harmonies, but for their clever videos, with recent releases including Patsy Cline's "Crazy,"  Brooks & Dunns "Only in America," Old Dominion's "One Man Band" and more. It's a reputation that they say is largely thanks to their management and team.
"A lot of credit goes to our manager, but when we were coming off of The Sing-Off, we were very aware that the spotlight of reality television fades very quickly," Foust tells Everything Nash. "And so that was one of the few things that we had complete control over, is the type of media that we continue to release. We saw the trends that were happening on YouTube and social media, and so we just decided to dive in and start aggressively releasing music videos in hopes that it would keep the attention of the fans. And it worked."
Home Free is back on the road, on their Dive Bar Saints Tour, for the first time in over a year. For a group who has spent most of their time performing for their fans, to be away from them was a challenge.
"It was like whiplash,"  Foust recalled Everything Nash. "We were literally in the middle of a European tour and we had to cut it short. We had stayed up till 2:00 AM, Europe time, to see the Presidential address. He said we were going to be banning flights from Europe. So the first thing we did was get on the phone and say, 'Delta, get us home ASAP.' It was very jarring in a 24-hour period to go from being in the middle of a tour on the other side of the world, to being on our couches in our homes, not really knowing if we could or should even leave our houses. It was one of the more jarring experiences I've ever had."
Find all of Home Free's upcoming shows by visiting their website.
For more exclusive artist interviews, subscribe to our YouTube channel here.