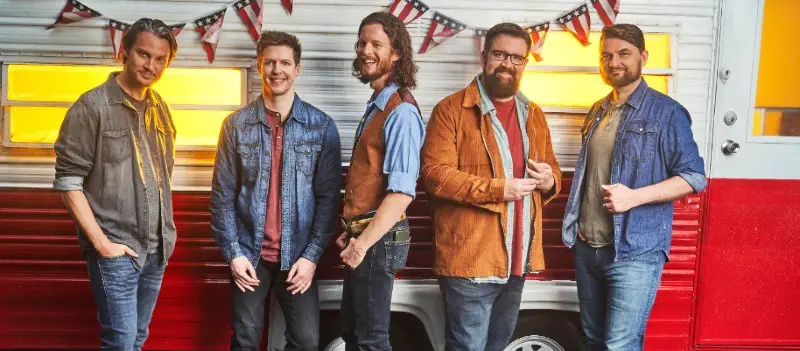 Home Free's latest cover is Old Dominion's recent award-winning, No. 1 hit, "One Man Band." For a group that, 2020 aside, has spent much of the last several years on the road, the song, which says in part, "I don't wanna be a one man band / I don't wanna be a rolling stone, alone / Puttin' miles on a run-down van / Baby, we can take our own show on the road," is a song that resonates deeply with the five Home Free members.
"The song is about the lonely life of touring as an artist, and feeling like you need someone special to hold you down through it all," Home Free says of the song. "All of us have rocks at home, and touring can be hard on us, and them – but we always know they have our backs no matter what."
Home Free, who released their patriotic Land of the Free  album in June, is always working on new music, while they dream of collaborating with other artists as well.
"We're real country music fans," Austin Brown tells Everything Nash. "So we look up to everybody in this industry … We know that Dolly Parton has at least heard a pitch from us. She was interested last year, and she was like, 'Maybe next year,' 'cause she had a thing last year. So who knows. There's no validity to that. That's just a hope. Ideally, we'd love to work with Dolly. And one of my favorite artists in country music of all time is Travis Tritt. I'd really love a chance to get to work with him."
"I'd like to get together with Little Big Town, and just do like a nine-part choir," Tim Foust adds.
Two of Home Free's recent collaborations, God Bless the "U.S.A." with Lee Greenwood and the United States Air Force Band, and "American Pie" with Don McLean, earned the all-vocal group Telly Awards, honoring "excellence in video and television across all screens."
"That track in particular, we knew we had to put it on this record for that fact alone of Lee Greenwood just really showing that, age can only make you better if you're really a studied and intentional artist,"  Brown tells Everything Nash of working with Greenwood."His presence on that song is unlike anything that I could have imagined. I figured somebody who had sung a song like that for years and years and years, it would just be another day in the studio, but he really owned that moment and rose to the occasion. It means the world to him, and I really look up to him. He's a role model for how he approaches that song still. Every day it's like that song is a new song for him."
Home Free is back on the road, on their Dive Bar Saints Tour. Find a list of all of their upcoming shows at HomeFreeMusic.com.
Want the first look at exclusive artist interviews? Subscribe to our YouTube channel here.