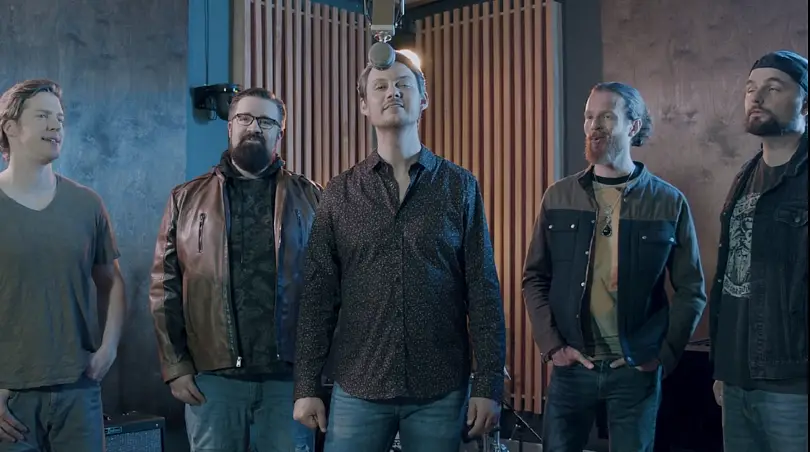 Home Free is showing off their love of country music with their latest cover. The all-vocal group just put an impressive spin on one of country music's classic hits, by covering Randy Travis' "Forever and Ever, Amen."
Travis originally included "Forever and Ever, Amen," one of the biggest songs of his career, on his sophomore Always & Forever album. The song was written by Paul Overstreet and Don Schlitz, and remained a favorite of Travis' throughout his illustrious career.
"I consider myself very fortunate each time I stand before an audience and sing [Overstreet's] songs," Travis previously said. "More often than any other time, I see the powerful effect his words have on people."
The Home Free members have been a big fan of Travis for years, but there are a couple of other country artists who they also adore, and dream of collaborating with someday.
"We're real country music fans," Austin Brown tells Everything Nash. "So we look up to everybody in this industry … We know that Dolly Parton has at least heard a pitch from us. She was interested last year, and she was like, 'Maybe next year,' 'cause she had a thing last year. So who knows. There's no validity to that. That's just a hope. Ideally, we'd love to work with Dolly. And one of my favorite artists in country music of all time is Travis Tritt. I'd really love a chance to get to work with him."
Home Free recently wrapped up their Dive Bar Saints Tour, which began right before the pandemic forced them to abruptly cancel their global trek.
"This was FAR from an easy tour… but we made it though with support from each other and our amazing crew, and, most importantly, our incredible fans,"  Adam Chance shared on social media after the tour ended. "Thank you for helping us get through this roller coaster of a run."
Home Free celebrated the release of "Forever and Ever, Amen," by performing at CMA Fest, a welcome return to the four-day Nashville live music event, after the festival was canceled for two years due to the pandemic. Home Free also signed autographs at Fan Fair X as part of the event.
Home Free's The Sounds of Lockdown is out now. Although the Dive Bar Saints Tour has ended, the group still has plenty of concert dates on the calendar. Find music and tour dates at HomeFreeMusic.com.