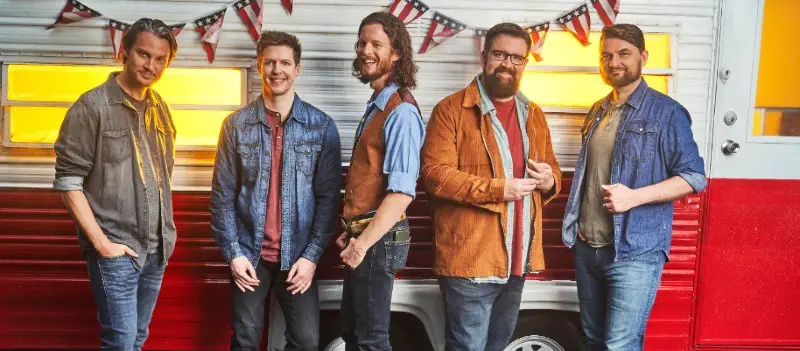 Home Free has collaborated with plenty of artists over the years, including Kenny Rogers, the Oak Ridge Boys, Don McLean, Alabama, Lee Greenwood and more. But there are still a few other artists the all-vocal group would like to sing with, including some of country music's biggest stars.
"We're real country music fans," Austin Brown tells Everything Nash. "So we look up to everybody in this industry … We know that Dolly Parton has at least heard a pitch from us. She was interested last year, and she was like, 'Maybe next year,' 'cause she had a thing last year. So who knows. There's no validity to that. That's just a hope. Ideally, we'd love to work with Dolly. And one of my favorite artists in country music of all time is Travis Tritt. I'd really love a chance to get to work with him."
"I'd like to get together with Little Big Town, and just do like a nine-part choir," Tim Foust adds.
It was Home Free's "God Bless the "U.S.A." collaboration with Greenwood and The United States Air Force Band that became the starting point for their recently-released patriotic Land of the Free record.
"That probably was a catalyst for this whole project," Foust tells Everything Nash. "Seeing the way that the fans, and even folks who didn't know who we were, reacted to 'God Bless the U.S.A.' We've had two versions of that go mega-viral. We released one a few years back that went great. And then the second time around, we got to work with the Lee Greenwood, as well as the Singing Sergeants from the Air Force. So it was a really special thing."
Home Free has sold out large arenas and been able to tour all over the world, all achievements that far exceeded any of their biggest hopes for their success.
"We just kept moving forward and did the next right thing for the band, and now here we are," Brown reflects.  "I'm in the house that Home Free allowed me to buy fortunately before the pandemic, because I couldn't have done that one afterwards, but it all worked out.
"Everything happens for a reason," he adds. "And our fans just continue to give because they want more music. Our success to any degree is their success in a really personal and tangible way, because they see the inside of my house on a daily basis through social media and in a HomeFree music video."
Foust just wanted to make a full-time living as a musician, so everything else that has happened since then feels like a great, albeit unexpected, gift.
"I hoped that we would get to a level where we could tour all over the world, but I never dreamed that we would be members of the Country Music Association," Foust concedes. "I never dreamed that we'd be regulars on the Grand Ole Opry, that we would be collaborating with absolute country music icons. All of that is just mind blowing. I'm just buckled up and holding on for the ride."
Home Free is back on the road, and will resume their Dive Bar Saints Tour this fall. Find tour dates, and purchase Land of the Free, at HomeFreeMusic.com.
Want more exclusive artist interviews? Subscribe to our YouTube channel here.