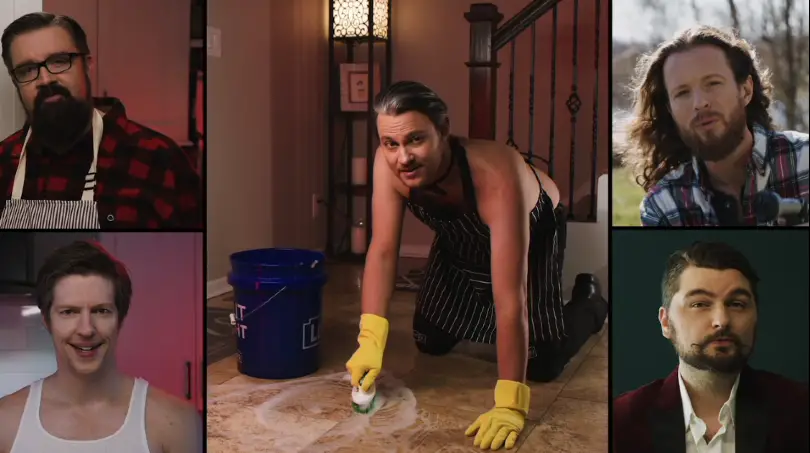 Leave it to Home Free to put a humorous spin on a time-tested love song. The all-vocal group just dropped the video for "Make You Feel My Love." The song was written by Bob Dylan, and first covered by Billy Joel, before being covered by plenty of other artists, including Garth Brooks and Kelly Clarkson, among others.
The video shows all five members doing various household chores as the song plays, including Tim Foust vacuuming shirtless, while wearing an apron and a bow tie, Adam Chance doing laundry, and Rob Lundquist doing the dishes.
Chance teased the video on social media, saying "I don't always dress up, but when I do… it's for Home Free music video shoots."
I don't always dress up, but when I do… it's for Home Free music video shoots. #leastinterestingmanintheworld #valentinesday 📸:Sami Matarante pic.twitter.com/HjUVwFDpWU

— Adam Chance (@TheAdamChance) February 11, 2022
The video might invoke more than a few laughs, but their take on the song is quite serious. The Home Free members take turns singing on "Make You Feel My Love," an intentional decision by the group for their arrangement of the song.
"Some of our favorite songs are ones where we all get to share the lead," Home Free said on social media, ahead of the song's release.
"Make You Feel My Love" isn't the only love song Home Free has recently released. They also shared their version of the Lonestar classic, "Amazed," last month.
Home Free will resume their Dive Bar Saints Tour on February 17 in Greensboro, North Carolina. The tour also includes several shows in Canada, which were rescheduled from last year. Find a list of all of Home Free's upcoming shows here.