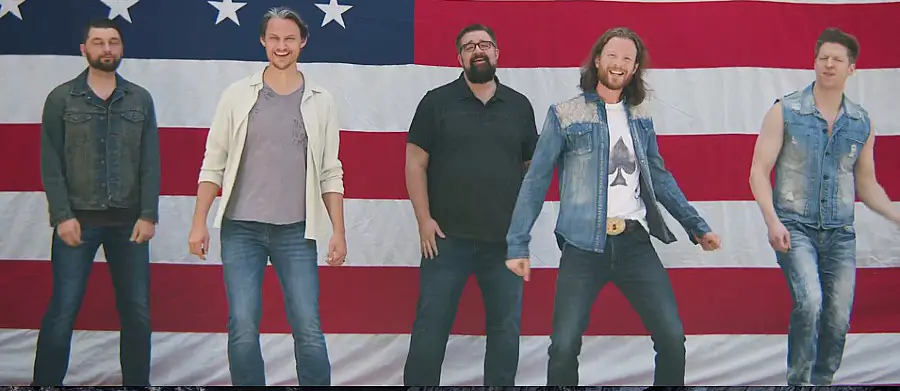 Home Free just dropped a powerful video for their song, "Undivided." Written by Tyler Hubbard and Chris Loocke, Tim McGraw first recorded the song, with Hubbard, for his 2020 Here on Earth album. But it was Home Free who put a new spin on the song, with their own version, for their patriotic Land Of The Free album. The all-vocal group just released the video for "Undivided," highlighting a song that is more important now than ever.
"It's songs like these that remind us we have more in common with each other than meets the eye," Home Free said on social media ahead of the video's release. "Go out and share a smile with a stranger, talk to someone with opposing political views, and let's come together, one interaction at a time."
Home Free knew early on that they needed to include "Undivided" in their Land of the Free project.
"The first time I heard 'Undivided' was the inauguration of Joe Biden," Rob Lundquist said in a video posted on social media over the summer. "When I heard Tim McGraw and Tyler Hubbard doing that song, it really hit me a lot, and showed how divided we are, and how polarized we are, the left and the right. It feels like the left has to hate the right, and the right has to hate the left. It doesn't have to be that way. We can celebrate each other's differences. I feel like a lot of the time we have the same common goal, but we just have different ways that we want to get there, and I feel like this song really expressed that well."
"There's a lot of complexity and nuance to political views," added Tim Foust. "It can't really be distilled down to a binary system, so I don't know why that's forced upon us. Be in the middle. Let's again, remember all of the things we have in common, and work back to finding that common ground. That's why we chose to start our album off with 'Undivided.'"
Home Free is currently on their Dive Bar Saints Tour. Find a list of all of their upcoming shows, and purchase Land of the Free, at HomeFreeMusic.com.
Want to watch more exclusive artist interviews? Click HERE to subscribe to our YouTube channel.