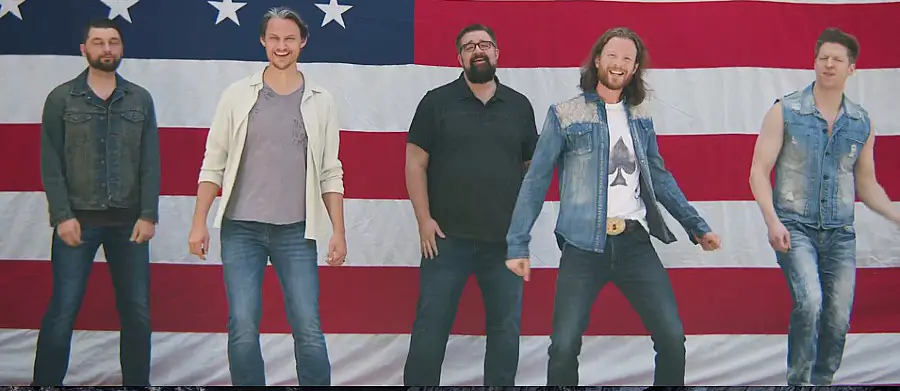 Home Free just released their patriotic Land Of The Free album, celebrating everything they love about the United States of America. The 10-track record kicks off with a cover of the Tyler Hubbard and Tim McGraw hit, "Undivided,"  a song that encapsulates Home Free's feelings about politics, regardless of party affiliation.
"The first time I heard 'Undivided' was the inauguration of Joe Biden," Rob Lundquist shares in a video posted on social media. "When I heard Tim McGraw and Tyler Hubbard doing that song, it really hit me a lot, and showed how divided we are, and how polarized we are, the left and the right. It feels like the left has to hate the right, and the right has to hate the left. It doesn't have to be that way. We can celebrate each other's differences. I feel like a lot of the time we have the same common goal, but we just have different ways that we want to get there, and I feel like this song really expressed that well."
"There's a lot of complexity and nuance to political views," adds Tim Foust. "It can't really be distilled down to a binary system, so I don't know why that's forced upon us. Be in the middle. Let's again, remember all of the things we have in common, and work back to finding that common ground. That's why we chose to start our album off with 'Undivided.'"
Every single song on LAND OF THE FREE is so incredibly important to us, so we wanted to take a moment to share an inside look at how we felt about each one.

Starting with @RobLundquist and @TimFoustMusic on our version of @THubbmusic and @TheTimMcGraw's 'Undivided': pic.twitter.com/Z3T06QfMS3

— Home Free (@HomeFreeGuys) July 6, 2021
Land Of The Free includes one original song, the title track, which was written by Foust, but it was Austin Brown who had the idea to include it on their latest project.
"It's a song that, ever since I first heard it, I've been wanting to do that song with Home Free," Brown tells  Everything Nash. "I heard it for the first time ten years ago when I met Tim and Home Free, and I was like, 'This is incredible.'"
Their new set of tunes also includes another one of Brown's favorites, a traditional patriotic tune with Home Free's unique spin on it, "America (My Country, 'Tis of Thee)"
"It feels like such a contemporary arrangement that I think everyone will love," Brown says. "No matter the age range, there's something about that song, that arrangement Ben Bram arranged it, and it's transcendent really. I think it's a really special song and I cannot wait for the reception of that."
Purchase Land Of The Free at HomeFreeMusic.com.
Want more exclusive artist interviews? Subscribe to our YouTube channel here.