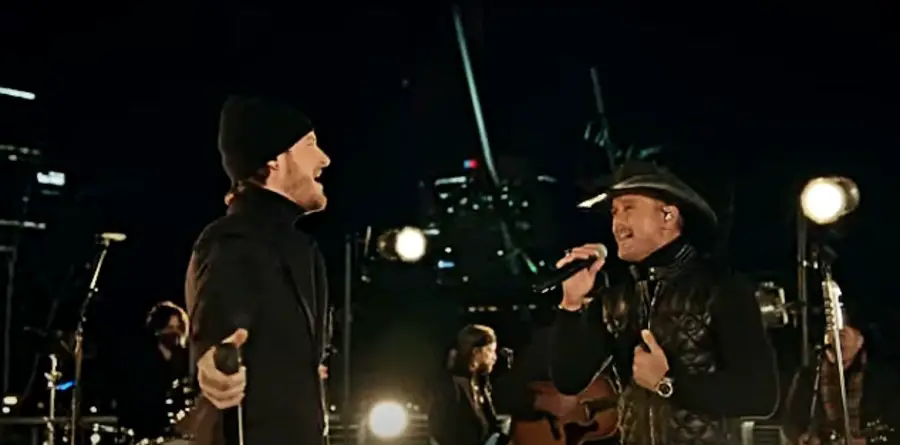 Tim McGraw and Tyler Hubbard sang "Undivided" for the televised special, Celebrating America, honoring the inauguration of President Joe Biden and Vice President Kamala Harris. The two singers performed the song virtually from downtown Nashville. The pair was introduced by nurse Sandra Lindsay, who was the first American to officially receive the COVID vaccine, as Celebrating America focused on honoring healthcare and other frontline workers.
"To Sandra Lindsay and all of our healthcare and frontline workers, thank you," Hubbard said. "When I was in quarantine with COVID-19, I got to take a good hard look at myself. Inspired by my faith in God to reunite our country. I wrote this song and I sent it to Tim."
"This song's message of unity and faith stirred my soul," McGraw added. "And tonight, especially as we look across the river at our strong, resilient and beautiful city of Nashville, we're honored to sing it for everyone.
Hubbard might have written "Undivided" while quarantining on his bus, but the Florida Georgia Line singer didn't realize how timely the song would be until the devastating Capitol riot, which occurred on January 6.
"Last week, when I heard the news about the Captiol, as sad as I was, I thought, 'Man, I thought we needed this message last year, and I didn't think we could need it anymore than we needed it last year, but apparently we still do,'" Hubbard told CBS This Morning of the song.
Both McGraw and Hubbard might have felt discouraged by how the country responded, but McGraw still believes there is good, in everyone.
"We have a great country full of great people and this song is about the social fabric that we rely on and the social contracts that we rely on to get along in this world, in this life, in this community together," McGraw told Entertainment Tonight. "And I think we've gotten away from that a little bit and I think we're going to get back to it, and hopefully, if this song is just a drop in the bucket to help in that along the way. Then I think Tyler and I would be very proud."
Garth Brooks performed for the inauguration ceremony, singing "Amazing Grace" a cappella, while Lady Gaga sang the National Anthem and Jennifer Lopez also performed. Celebrating America, hosted by Tom Hanks, included performances by Justin Timberlake with Ant Clemons, Jon Bon Jovi, Katy Perry, Bruce Springsteen, John Legend and others.