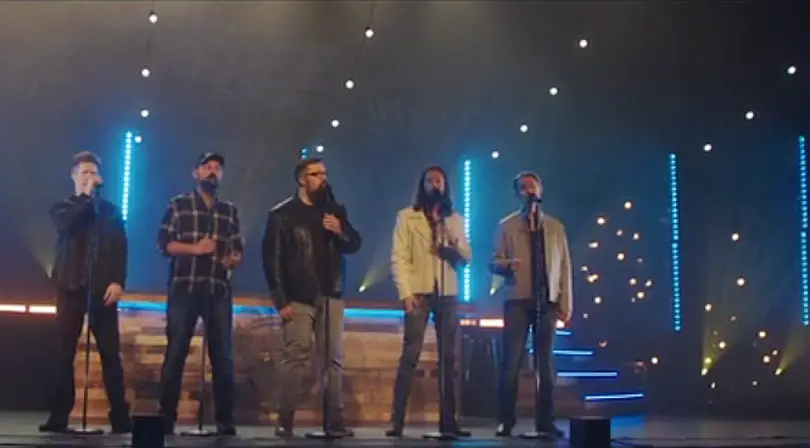 Home Free is celebrating young love with the video for their latest song, a cover of Lonestar's "Amazed." The video for the song shows students at a dance, working up the courage to dance together.
Home Free revealed on social media that it was one of their loyal fans, dubbed a Home Fry, who suggested that the all-vocal group put their own twist on the Lonestar classic.
"'Amazed' by [Lonestar] is one of the best wedding songs of all time, and after seeing a Home Fry request it, we knew we had to give it a shot," they shared.
Earlier this month, Home Free released "Dreamer," their collaboration with Texas Hill. The two groups performed the song together during Home Free's performance at the Ryman Auditorium, as part of their Warmest Winter Tour.
In addition to Home Free getting ready to resume their Dive Bar Saints Tour, some of the group's members have also been releasing solo music as well. Adam Chance just dropped his version of "Pancho & Lefty," made popular by Willie Nelson and Merle Haggard.
Tim Foust also dropped "Come Go With Me" in December, followed by a medley of "Will You Still Love Me / Stay" in January, and hints there will likely be more music from him in the future.
"Like everybody else, I found myself stuck at home indefinitely this last year, so I decided to capitalize on that unforeseen free time as much as possible," Foust told Willy 98.7 last spring. "We've been aggressively recording in Home Free, and then on top of that, I started recording some of these songs that I had written, that hadn't found a home anywhere else. I just decided to release them myself, so I started a Patreon campaign.
"I've been releasing everything exclusively to Patreon for now," he adds. "But I'll be releasing a solo album later this year, and I'll put singles out on the various streaming sites as well."
Find all of Home Free's music and tour dates here.