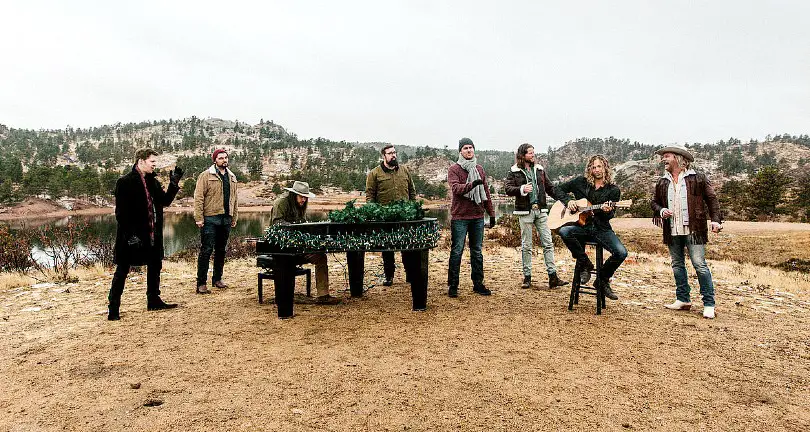 Home Free is returning to their roots with their "Go Tell It On the Mountain" collaboration with Texas Hill, out now. The song features the all-vocal group along with Texas Hill's soaring vocals, on a Christmas classic Home Free used to perform regularly in their live shows.
"Craig brought 'Go Tell It On the Mountain' our way," Home Free's Austin Brown tells Sounds Like Nashville. "We sang this song live about seven, eight years ago, but never laid it out as a record with the guys in this band. I sang this a ton growing up in a gospel church in South Georgia. Whenever we can throw a little Southern Gospel into our sound, we love to do it."
It didn't take much convincing from Brown for the rest of Home Free to sign on to the collaboration, since the group's Tim Foust was already a fan of the rising trio.
"I'd known about Craig Wayne Boyd from a good friend and longtime collaborator Arlis Albritton, who'd previously worked with Craig after his time on The Voice," Foust recalls. "When I saw that he, Adam, and Casey had launched a new band that had the name of my home state of Texas, my interest was immediately piqued. I was really impressed by the harmonies and sound of their debut singles, and was excited to go see them at The Nashville Palace. We got introduced in person that night, and we'd been talking about a collab ever since."
Home Free has collaborated with plenty of artists, but calls "Go Tell It On the Mountain" one of their favorite collaborations they have ever done.
"It's really special, and it's the first time we've really done something like this. Obviously, we did something with the Oak Ridge Boys," Brown tells Everything Nash, referring to the "Beautiful Star of Bethlehem" duet they did last year. "But this is just so different from that. The full body sound — we actually got to sing together on stage when the guys came out, and we filmed this music video in Cheyenne. We did a song on the show together, and we actually have some more shows coming up. It is some of the most fun I've ever had. Just getting to sing with these guys and have seven dudes just wailing is awesome. It feels so cool. I hope it's an omen of all kinds of things to come just like this."
Texas Hill recently joined Home Free for a show in Wyoming, where they also filmed the upcoming video. Fortunately, the night went so well that Home Free invited Texas Hill to join them on some of their upcoming Warmest Winter Tour dates, with another collaboration also in the works as well.
"We definitely have to do more stuff like this, 100 percent," Brown says. "There's already plans actually in place to do at least one more song. So get excited for all the good things to come."
Want to watch more exclusive artist interviews? Click HERE to subscribe to our YouTube channel.
Photo Credit: Courtesy of Elicity PR / Josh Adams