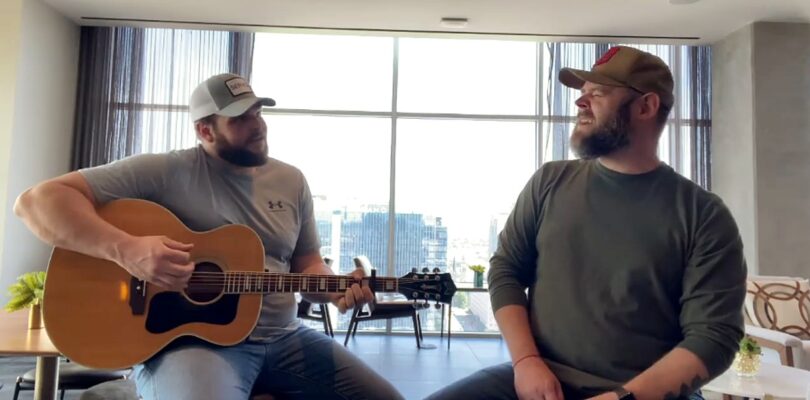 Two winners of The Voice are combining their talents on a new song, out in January. Season 17 winner Jake Hoot will sing with Season 18 winner Todd Tilghman, on the hymn, "In the Garden," scheduled to be released on January 14.
The two singers teased the song on social media in April, which Hoot says began when they got together with the intention of writing a song.
"I invited him over to write, and we just got to talking 'cause Todd, he's such a down-to-earth, sweet guy," Hoot tells Everything Nash. "He and Brooke both are. We just got to talking, and talked through our entire session of writing. We were supposed to write. And so I said, 'Well, let's not stop here. Let's go grab something to eat. But before we go, let's record something.' And so we recorded, just a little 30-second, one-minute clip of 'In the Garden,' which is an old hymn that we both love."
Hoot wasn't sure when it would be released, after they recorded it, but he was thrilled with the finished product.
"We went into the studio together and recorded that, and it turned out great," Hoot says. "I was very honored that he asked me to be a part of that. It was really special."
"In the Garden" isn't the only collaboration Tilghman is releasing in 2022. The father of eight is also releasing a new version of "Love, Me,"  with the song's original singer, Collin Raye, in honor of the song's 30th anniversary.
"I had a meeting with Collin, and let me say he is just really so nice," Tilghman tells Everything Nash. "He's so nice that we were immediately friends, which means we were immediately deep into conversation … I  said, 'Listen, we can talk all afternoon. This is all I have in the afternoon, but before we do that, the reason that I asked you to meet with me is because I would love to get with you, not do it on my own, but you and I together cut one of your classics, like 'Little Rock' or, or 'Not That Different,' or 'That Was a River,' or any of them.'"
"I didn't know if we should do something different, but he spoke up and said, 'Well, we've been talking about something special to do for the 30th anniversary of 'Love, Me,'" he continues. "'I feel like this would be perfect.' So he and I are cutting 'Love, Me' in the first part of the year together."
"In the Garden" will be available to pre-save on December 25.