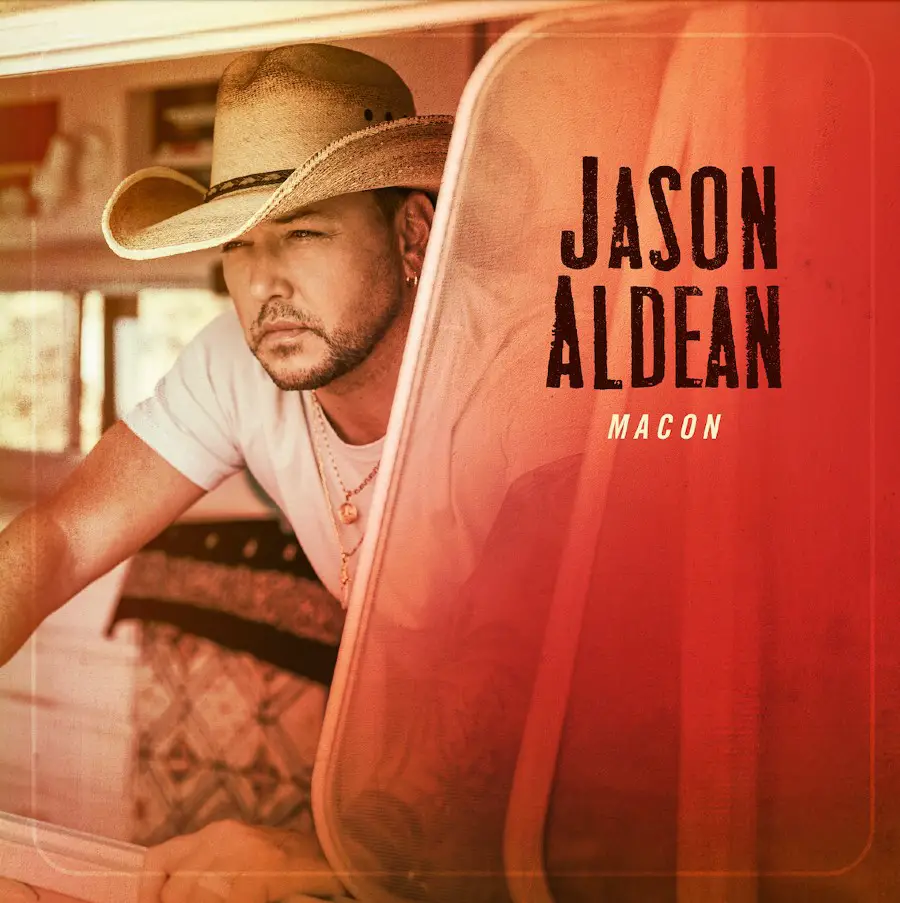 The first part of Jason Aldean's double Macon, Georgia album is out! The first 15 songs, which includes his No. 1 "If I Didn't Love You" duet with Carrie Underwood, were released on Friday, November 12, with the rest of the tracks available by April 22, 2022.
With 30 songs on the project, the task was a bit daunting, but for Aldean, it made the most sense to share as many songs as possible with his fans.
"I always have a hard time narrowing the songs down," Aldean admitted to Apple Music Country's Today's Country Radio with Kelleigh Bannen. "I'll always find a lot of songs. I feel like I leave songs on the table a lot of times, because we're trying to narrow it down to 15 or however many we're putting on an album. And I always, when we're done with a record, I always look back and go, 'Man, I wish I'd have cut that one.'  'Fly Over States' was a song that we were going to cut for a record and left it off the album. We cut it on the next record and it ended up being a single and a big hit for us. I feel like I've done that a lot over the years."
After releasing 9 in 2019, the father of four felt the ambitious Macon, Georgia project was the perfect way to celebrate a decade in country music, especially after the challenges brought on by the pandemic.
'Honestly, with this being my tenth record, and us dealing with the quarantine stuff, we had all this time on our hands," reflects the singer. "It was just the tenth album being a special record, and so we were like, 'Let's just do something different, and let's cut 20 new songs and then add in some live songs. We've never done a live album. We've never done a greatest hits record. So it's almost like you get a double album and then a live greatest hits record on top of it, too. That was the thought process."
The album's title is a nod to his own hometown, where his love of music, of all genres, began.
"The Allman Brothers kind of formed there," Aldean says. "That was sort of their home base. So people always say they were from there. They all weren't from there, but that was where the band formed. But Otis Redding was from there, and Little Richard was from there. For country fans, back in the day Razzie Bailey came out of there. And then you had James Brown from Augusta, you had The Black Crowes out of Atlanta, and then you had REM and those bands coming out of Athens.
"Trisha Yearwood, Travis Tritt, Alan Jackson, all right there between Macon and Atlanta," he continues. "It was just this melting pot of all this different kind of music that was coming in there, and growing up, you're exposed to all that stuff. It's just cool. It just gives you an appreciation for all these different kinds of music."
See a track list for Macon below. The record is available for purchase at JasonAldean.com.
Macon Track List:
1. "After You"
2. "Over You Again"
3. "That's What Tequila Does"
4. "Small Town Small"
5. "If I Didn't Love You"
6. "Story For Another Glass"
7. "Heaven"
8. "This Bar Don't Work Anymore"
9. "The Sad Songs"
10. "Watching You Love Me"
11. "Amarillo Sky" (Live from Nashville, TN)
12. "Johnny Cash" (Live from Los Angeles, CA)
13. "She's Country" (Live from Las Vegas, NV)
14. "Big Green Tractor" (Live from Dallas, TX)