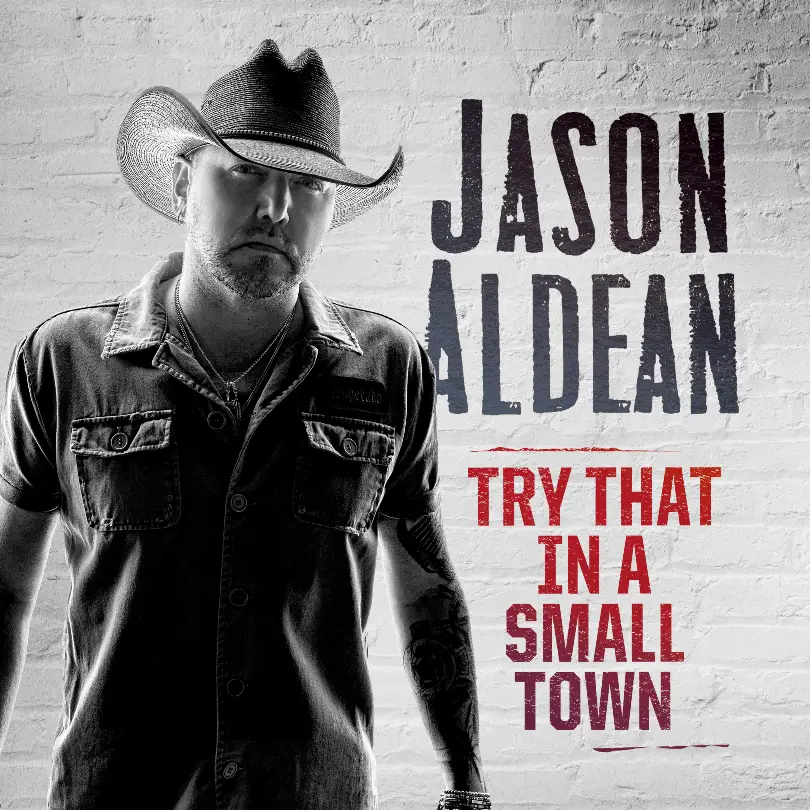 Only a few weeks after releasing "Tough Crowd," Jason Aldean has dropped another new song, "Try That In A Small Town." The song, written by his band members by Kurt Allison and Tully Kennedy, along with Kelley Lovelace and Neil Thrasher, is from a forthcoming new album.
"I think for me, I heard this song, and it just kind of explained to me what's going on in the world," Aldean said on The Bobby Bones Show. "It resonated with me, I guess is a better word, because of what's going on in the world. But it's like, every day, you turn on the news, and you see something else crazy that's happening, or some heartbreaking story. This is a song that talks about, you wouldn't get away with that stuff in a small town.
"It's just a different mindset and different kind of values in small-town America that I wish everybody else would adopt, and probably help some of the things that are going on in the world," he adds.
The new record follows Aldean's double Macon, Georgia project, with Macon out in November of 2021, and Georgia following in April of 2022. The father of four, whose eponymous debut album came out in 2005, is by now quite versed at making records, even if the process is a bit tedious at times.
"I would say probably 100 maybe," Aldean said, when asked how many songs he initially picks for a project. "And then you kind of narrow it down to 20, and then you narrow the 20 down to 12 or 15 that are going to be on the album. It's a pretty long process, but I actually enjoy that part of it, and finding new songs and cool things that I get excited to go in and cut. I actually enjoy that process."
Aldean just celebrated his 27th No. 1 single, with "Trouble With A Heartbreak," an accomplishment that isn't lost on Aldean.
"I'm so thankful for the career I've had," Aldean said on Country Countdown USA. "You get a couple No. 1 [hits], and then there's ten, and 20. It's so beyond what I imagined when I started this. I hope I've got a few more in me, but 27, I'm extremely proud of that for sure."
While Aldean hasn't revealed many details about his next set of tunes, he does hint that he would love to record something with his wife, Brittany, at some point in his career.
"Brit's a great singer," Aldean said on Audacy's Stars and Strings. "It's one of those things where, to me, it all comes down to the song. If you find the right song, I think that's really the key. It's definitely something I'm not opposed to at all if the right thing came along and made sense. I would actually love to get her in the studio and cut some vocals. I don't think she's ever done that before. That would be cool. She'd be a little reluctant until she got in there. I think she'd be great."
Aldean will kick off his Highway Desperado Tour on July 14, with Mitchell Tenpenny, Corey Kent and Dee Jay Silver joining him on the road. Find music and tour dates at JasonAldean.com.
Photo Credit: Courtesy of BMG / Brian Higbee