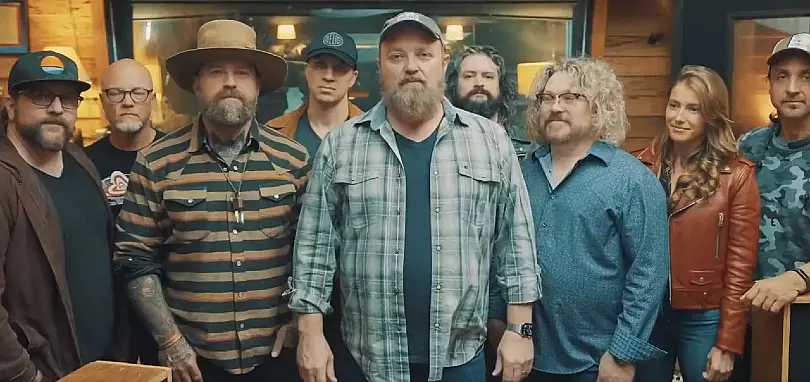 Caroline Jones is offering an update on the Zac Brown Band's John Driskell Hopkins, and his ongoing battle with amyotrophic lateral sclerosis, otherwise known as ALS. Hopkins, who announced his diagnosis one year ago, remains a part of the Zac Brown Band, in spite of the degenerative illness.
Jones finds a lot of similarities between Hopkins and her latest album, Superpower, out now.
"He's doing pretty well," Jones tells Everything Nash. "And he's such a testament to perseverance and grit, which are actually the themes of this record. When I think about the themes of this record, that's what I think of. I really think of those because he's a real inspiration and his family, his wife Jen, his kids and him — the thing that moves me the most is that he's taken this opportunity not to shrink back, but to shine a light on this disease, and really make an impact. And actually, they're pretty close. They're not decades away. They're years away from a potential cure for this disease."
Hopkins started his own nonprofit, Hop On a Cure, which works to fund research in finding a cure for ALS, while also directly helping those impacted by the disease.
"The idea that he's able to help speed that along with this platform, and that he hasn't shrunk back in self-pity, but is actually using that opportunity to add forward momentum to the cause, that to me is a real strength," Jones says.
While Hopkins does face some mobility challenges as a result of ALS, all of the Zac Brown Band members vow to support him while he is on the road.
"We can't allow ourselves to think about [Hopkins' ALS diagnosis] as a super-defeating negative because we love him so much," Zac Brown Band's Coy Bowles told The Tennessean. "So our mind frame around it has been focused on making the most of the fact that he's still out there with us."
Jones officially joined the Zac Brown Band in 2022, after sitting in with them as a guest musician for numerous shows.
"I feel very, very honored to be in Zac Brown," Jones says. "It's another thing I still can't believe, but I feel very blessed to be able to do both. And that's really just a testament to Zac and his support of me. And the fact that I was an artist before I was in the band, and I'm able to balance both is a blessing, because being a sideman is a completely different discipline than being an artist. They're just two completely different sides of the brain. And I love both."
Superpower and all of Jones' music, as well as her upcoming headlining shows, can be found at CarolineJones.com.
The Zac Brown Band will embark on their From The Fire Tour on June 30. All of their upcoming shows can be found at ZacBrownBand.com.