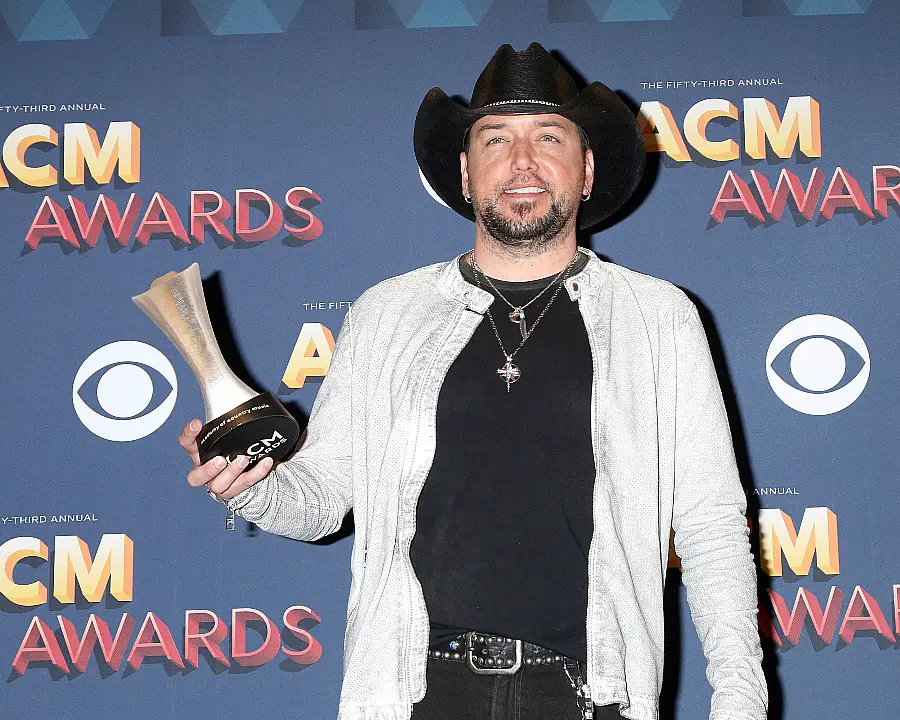 Jason Aldean has already accomplished a lot throughout his career, which spans more than 16 years. The 44-year-old has had numerous No. 1 singles and won several awards, including the ACM Artist of the Decade, and sold-out arenas all over the country. Still, for all that he has done, there is still one thing he hopes to accomplish — win a Grammy — which will, at least in his mind, solidify his place as a country music superstar.
" A Grammy and an American Music Award. I'm serious," Aldean reveals on Today's Country Radio with Kelleigh Bannen. "It's been fun, and the thing I love is that I've always had a chance to go and make the records I wanted to make."
The father of four may not have won a Grammy, although he's been nominated four times, but he is happy with what he has done, especially since it has his mark all over it.
"I feel like, for me, I landed at Broken Bow Records, which at the time was not a real player in town at all, but the one thing I'll say about them is they always gave me creative control over everything that I wanted to do," boasts the singer. "And so I can go back and listen to those albums and be like, 'I made those records. That's me. That's not somebody telling me what to do, not somebody picking my songs for me or whatever. I did all that.' And so that's a good feeling."
One of Aldean's biggest hits almost wasn't even recorded. "Big Green Tractor," from his third Wide Open album, became one of the biggest hits of his career, but it took some persuading from Aldean's longtime producer, Michael Knox, for Aldean to include it on the record.
"Knox was the one that was just like, 'You really need to listen to this. You really need to listen,'" Aldean recalls. "I'm like, 'Man, I'm listening.' But he's like, 'If you don't ever do anything thing else for me, please cut this song.' And I was like, 'We'll cut it. I like it enough to cut it. I just don't know if I want it to be a single.' And so sure enough, we cut it, put it out as a single, and to this day, it's been my longest number one at four weeks."
Aldean just released the first part of his ambitious double Macon, Georgia album, with the rest of the record coming out in 2022.
"I always have a hard time narrowing the songs down," Aldean said of the reason for the 30-track project. "I'll always find a lot of songs. I feel like I leave songs on the table a lot of times, because we're trying to narrow it down to 15 or however many we're putting on an album. And I always, when we're done with a record, I always look back and go, 'Man, I wish I'd have cut that one.'  'Fly Over States' was a song that we were going to cut for a record and left it off the album. We cut it on the next record and it ended up being a single and a big hit for us. I feel like I've done that a lot over the years."
Macon is available for purchase at JasonAldean.com.