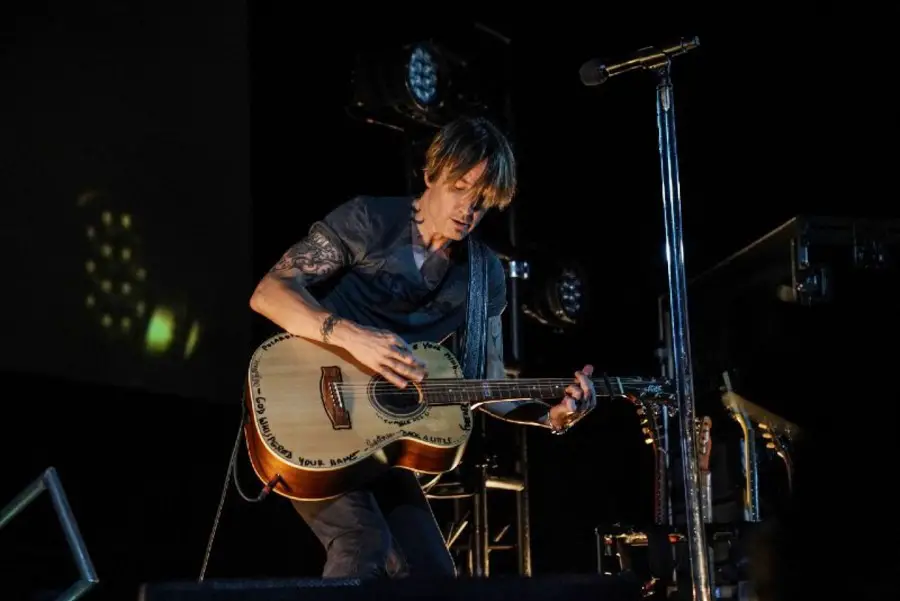 New music is here from Keith Urban! The New Zealand-born star just dropped "Nightfalls," an energetic new track he teased only hours before its release.
Urban explained on social media that the song was his way of celebrating his return to live music, after being away from his fans because of the pandemic.
Two summers have gone by without touring and the desire to have that feeling again inspired every part of creating this song. 'Nightfalls' is out now !

🌙 https://t.co/Sgz88Ljan7 pic.twitter.com/0BS53udUHF

— Keith Urban (@KeithUrban) March 31, 2022
Urban wrote "Nightfall" with Greg Kurstin and Mozella, inspired by his excitement to return to touring again,
"Writing 'Nightfalls' with Greg Kurstin and Mozella was pure joy," Urban says (via Music-News). "Two summers have gone by with no way to tour and the desire to have that feeling again inspired every part of this song and recording. In a world so full of real struggles and fractures, I wanna try and bring something to help us exhale and be in the moment – if only for 3 mins and 41 seconds."
"Nightfalls" comes as Urban is celebrating another Top 10 hit, with"Wild Hearts," which is also from a new album. The uptempo tune was originally written by Runaway June's Jennifer Wayne, Old Dominion's Brad Tursi and Eric Paslay, before Urban reworked some of the lyrics to make them his own.
"This whole thing came together faster than probably any song I've ever done," Urban told his record label. "I got sent the song in early May, and I rewrote the lyrics within a couple of weeks of getting the track without the vocals on it, so I could work on that. And once I got those where I wanted them, I went down into my studio and put down a vocal on the song and then I added guitars and I sort of built out the demo that I got sent. Everything was done so quick, and then I sent it to my manager to say, 'Hey, we just did this last week. What do you think about this song?' And he said, 'I think we should put that song out.' I went, 'When?' He was like, 'Now!' (laughs) He's like, 'This just sounds great.'"
Urban is spending much of the remainder of the year on his The Speed of Now World Tour, which kicks off the United States leg of the tour in June.
"After two years we're finally gonna get the chance to play some of the new songs we haven't done live before," Urban said when announcing his global trek. "We'll throw in a bunch of the songs that everyone comes to hear, a couple of which we'll rework a bit, and it's really gonna be tough to get us off the stage," Urban says in a statement. "I've always considered myself a live performer first. It's what I've always done and it's what my music needs to live and breathe. Our shows are all about living in the moment. They're a totally interactive and immersive experience where everyone can participate in whatever way they want — sing, dance, do whatever."
Find all of Urban's music and tour dates at KeithUrban.com.