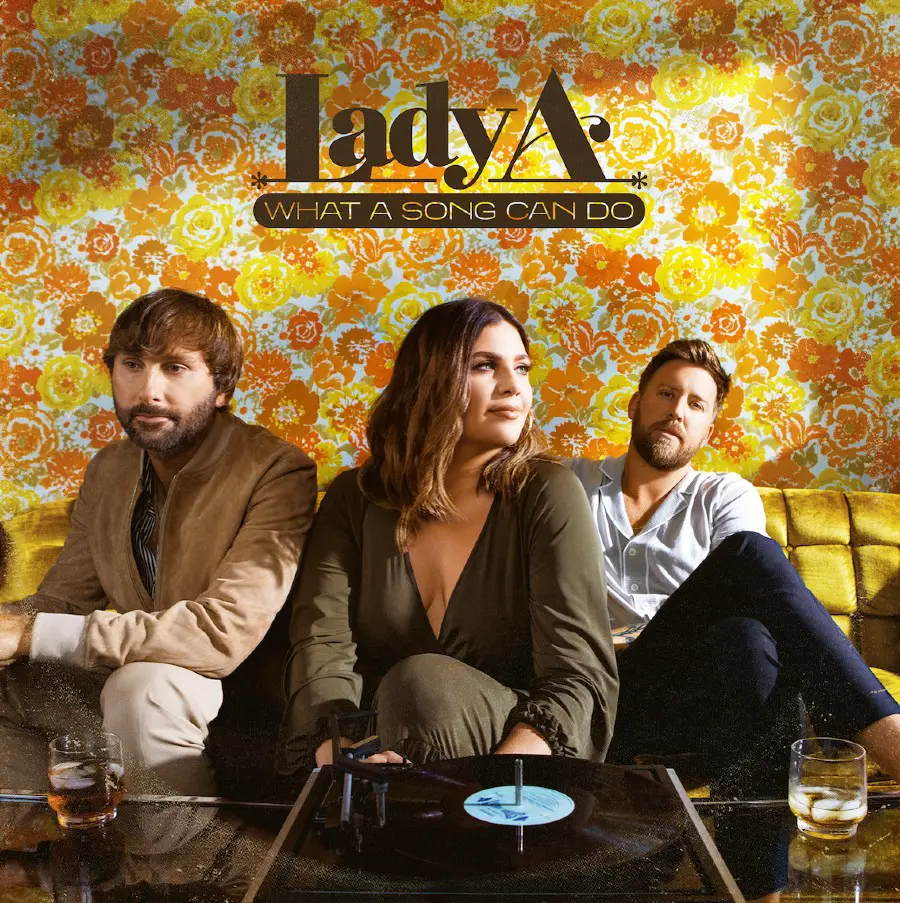 Only a couple of months after Lady A released their seven-track What a Song Can Do (Chapter One) EP, the trio announces that their eight studio album, What a Song Can Do, will be released this fall. All but one of the 14 tracks on the new set of tunes were written by at least one of the Lady A members, an important distinction for the threesome.
"We've rediscovered our purpose, and it's to entertain and spread a positive message – I really truly believe that," Charles Kelley says. "I want our legacy to be songs that make people feel good. But, I also think there's more to our story that hasn't been written yet."
Kelley co-wrote one of the songs, "Friends Don't Let Friends," with Thomas Rhett, who joins Lady A on the track, along with Carly Pearce and Darius Rucker. After being forced to cancel their 2020 tour plans because of the pandemic, the Lady A members used their time to write songs, which will appear on their new record.
"We wrote a lot," Kelley told Everything Nash and other outlets during a recent virtual media event, after the release of What A Song Can Do (Chapter One). "This this new project, this is the most we've written in a long time. It was the one thing I think that kind of kept me sane, and made me feel like I was being productive. And so it was nice to have an outlet for a lot of those emotions. There's a lot of deep songs on this record and a lot of stuff I think that's more reminiscent of what you probably heard from us in the past. But we learned so much about ourselves. And I think one thing I learned was how much my identity was so tied to this band, and I needed to realize who am I without the band.
"I think it was an interesting journey," he continued. "It made me to realize how much I need Dave [Haywood] and Hillary [Scott] in my life to lean on, especially with all the stuff we've gone through with the name change stuff. We feel like we're on the path together. We know what we stand for. We know what we want to be, what kind of example we want to lead for our kids … I think anybody that knows us, knows our hearts and what we really are trying to to to be a part and represent and what we've always tried to from the beginning. I think a lot of that is in this music. There's definitely a lot of I learned a lot about myself from from this year."
Lady A already dropped the lyric video for "Where Would I Be." What a Song Can Do will be released on October 22. See a track list for the album below, and find tour dates and order the new record at LadyAMusic.com.
What a Song Can Do Track List:
1. "Talk Of This Town"
Dave Haywood, Charles Kelley, Hillary Scott, Nicolle Galyon, Jordan Reynolds
2. "What A Song Can Do"
Charles Kelley, Sam Ellis, Ryan Hurd, Laura Veltz
3. "Like A Lady"
Hillary Scott, Dave Barnes, Michelle Buzz, Martin Johnson, Brandon Paddock
4. "Things He Handed Down"
Charles Kelley, Julian Bunetta, Jesse Frasure, Thomas Rhett
5. "Fire"
Dave Haywood, Charles Kelley, Hillary Scott, Justin Ebach
6. "Chance Of Rain"
Dave Haywood, Charles Kelley, Topher Brown, Justin Ebach
7. "Worship What I Hate"
Dave Haywood, Hillary Scott, Natalie Hemby, Amy Wadge
8. "Where Would I Be"
David Garcia, Natalie Hemby, Jordan Terry Minton
9. "Friends Don't Let Friends" (featuring Carly Pearce, Thomas Rhett, Darius Rucker)
Charles Kelley, Julian Bunetta, Ashley Gorley, Thomas Rhett
10. "In Waves"
Charles Kelley, Joey Hendricks, Alysa Vanderheym, Michael Whitworth
11. "You Keep Thinking That"
Charles Kelley, Dave Cohen, Chris Gelbuda, Steven Lee Olsen
12. "Be That For You"
Dave Haywood, Charles Kelley, Corey Crowder
13. "Workin' On This Love"
Dave Haywood
14. "Swore I Was Leaving"
Dave Haywood, Charles Kelley, Hillary Scott, Jordan Reynolds, Parker Welling