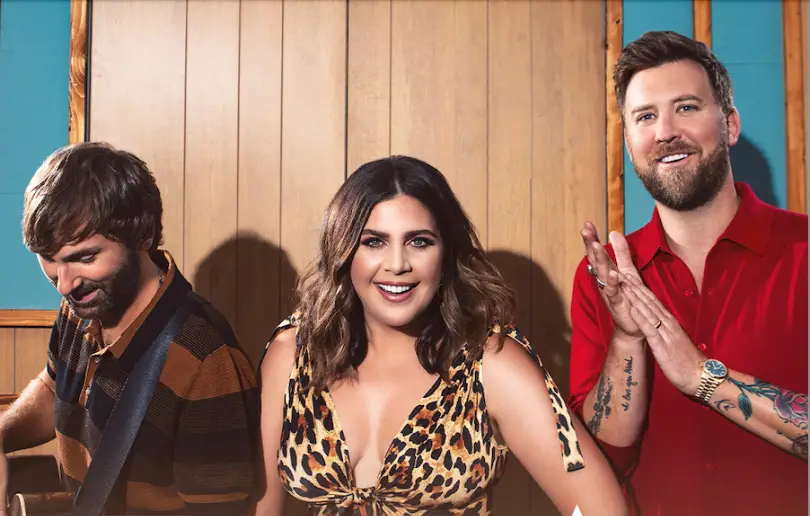 Lady A's Dave Haywood is praising his bandmate Hillary Scott, and not just for her musical talents. Haywood says Scott is also an exceptional mother to her eight-year-old daughter Eisele and four-year-old twins Emory and Betsy, something he has been able to witness firsthand over the years.
"We started out and met Hillary in 2006," he tells BMLG. "So, I've known her for over a dozen years, and have watched her really grow up. Now she is a mom of three, an amazing wife, an amazing mother, and she always puts her kids first. I mean, there is not a day where she doesn't show me a photo, tell me a story, and give me some kind of cute moment, or hard moment or a real-life moment with her daughters.
"And I love how proud she is of them," he continues. "If you know her, you know that she has three girls, and that's the first thing she'll share with you. And so, she is so proud, and such an amazing mom that always leans in with her heart, connects with her daughters on a deep level and works so hard to provide and to be there for them in all aspects."
Lady A, which includes Charles Kelley, spent more time at home than normal in recent years, due to the pandemic. It was a bittersweet time for all three of them, who had previously missed out on so many experiences with their children because of their busy careers.
"I feel like I'm being pulled by both my arms and I'm a perforated page," Scott previously said "That's how it will always be. The pull of parenthood and the pull of a calling and a dream that we're so blessed to be able to chase and do and call our career. So it's very, very right on the surface and raw. And I think about other families, like moms coming back from maternity leave. I think about my best friend whose husband's in the Navy and deploys for months at a time.
"You can really think about any walk of life, any job, the pull of parenthood, it's hard for anybody to leave their house," she continued. "Even if you leave in the morning at 8:00 and come home at 5:00, it's hard to leave them when they're your world, they're your responsibility, but wanting them to understand, because we have children to raise them up to be good humans, that this is a part of life and to chase a dream and want them to find the same thing."
All three band members will soon have to juggle being parents with life on the road. The trio is set to embark on their Request Line Tour in August, with Dave Barnes serving as their opening act. Find music and tour dates at LadyAMusic.com.