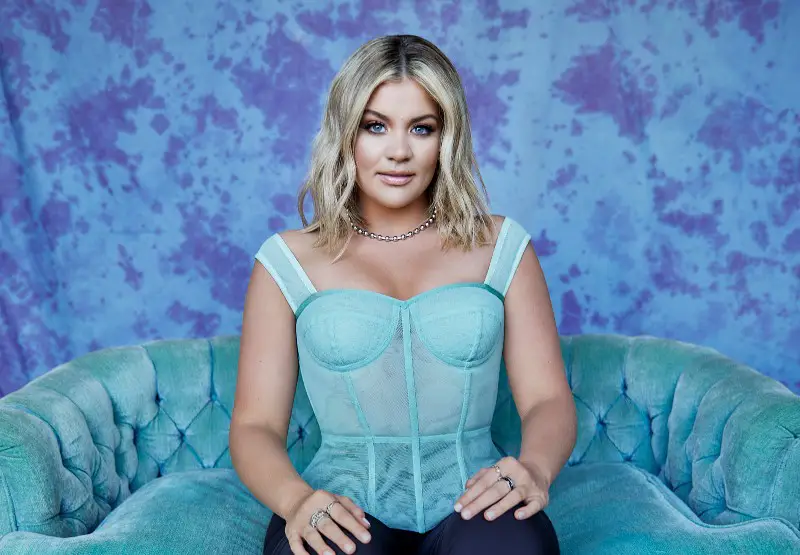 Lauren Alaina's autobiographical Sitting Pretty on Top of the World is out! Alaina co-wrote 14 of the 15 tracks on the stunning record, teaming up with hit tunesmiths like Hillary Lindsey, Lori McKenna, Corey Crowder, Emily Weisband, Liz Rose and more to help Alaina tell her own personal story of the highs and lows she has experienced over the last several years.
"I have been very fortunate to work with some of the best writers in town," Alaina tells Everything Nash. "I started working with Liz Rose and Hillary Lindsey, right when I first moved to town, and Lori McKenna, and I've written with Emily Weisband. I have a lot of really good friends in town that helped me create this project, that really jumped on board with it and felt as passionately about it as I did, which is always nice in the creative process. When people truly believe in you, you're able to make better music."
Alaina has been writing and releasing music ever since she came in second in Season 10 of American Idol in 2011. The 26-year-old has lived her entire adult life in the spotlight, but never had the time, or perhaps emotional bandwidth, to be so honest about her own life, until the was forced to be home in 2020.
"I think we were all just in such a state of — in this pandemic emotions, were running wild because there were so many questions, and I stopped for the first time in ten years," Alaina reflects. "I think I was able to sit down and think about everything that had happened, and really write a summary of it, which is what the album feels like for me. All of the songwriters that are on this project helped me put my story together. It was a really healing process for me, and I'm excited for everyone to hear it."
Alaina's last full-length project was Road Less Traveled, released in 2017. The title track became Alaina's first No. 1 hit, giving a hint of what Alaina is able to do with her music.
"I think it's the next chapter after Road Less Traveled. Road Less Traveled was all about becoming a woman. It was about my family, and things that I went through to go from a teenager to a young woman. This album is about being a woman and tells people where I've been and what's been happening."
Both in Sitting Pretty on Top of the World, and in her upcoming book, Getting Good at Being You: Learning to Love Who God Made You to Be, Alaina shares very personal details from her own life, including her father's alcoholism, and her very public splits from both her former fiancé, Alex Hopkins, and later to comedian John Crist.
"I think that the way that I've always dealt with what I'm going through and the way that I communicate my feelings is through my music," Alaina explains. "And these songs were the songs about my life. Regardless of who the other character is or what actually happened, these songs helped me process it and helped me work through the emotions of going through two really crazy breakups. And then trying to date again and figuring out what that looks like and trying to be a woman and dealing with all of these emotions."
Alaina could have kept her stories to herself, and not shared some of her deepest and darkest secrets in her music. But if Alaina has learned anything since her time on Idol, it is that there are far more similarities between her and her fans than there are differences.
"I wrote them for me to process all of the things I went through," Alaina says. "I want to share them because I think there are people out there that have similar situations, and music has a way of bringing us all together and helping us heal. And I think what the world needs most right now is to be brought together and to be healed. So if my album can even be a teeny tiny part of that, it's a win."
Sitting Pretty on Top of the World includes a duet with Trisha Yearwood on "Getting Good," as well as a collaboration with Jon Pardi, on "Getting Over Him," which is currently in the Top 40. Sitting Pretty on Top of the World is available at Alaina's website.
Want to be the first to see exclusive artist interviews? Click here to subscribe to our YouTube channel.