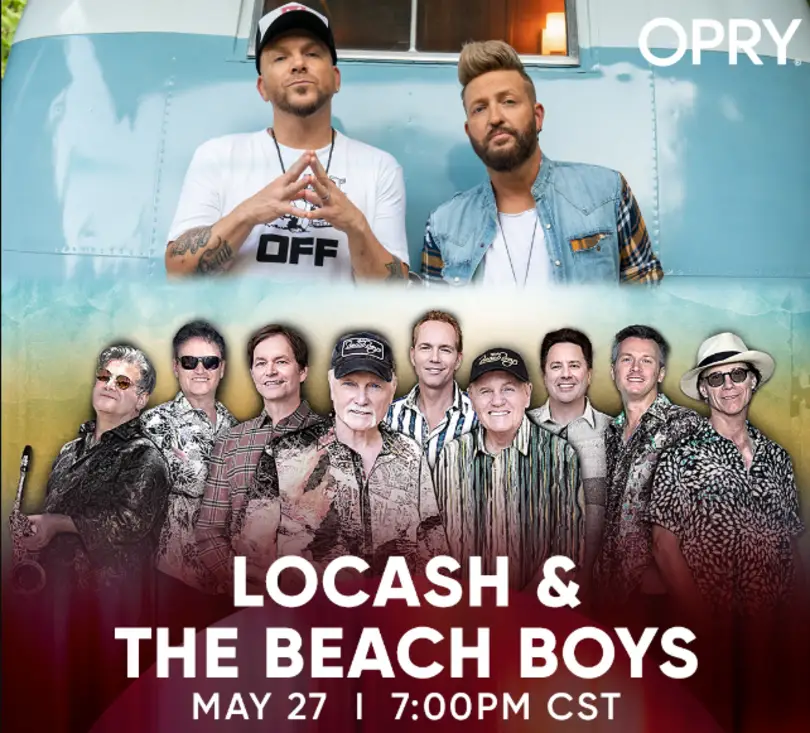 LOCASH and The Beach Boys will perform on the iconic Grand Ole Opry stage, together! The two musical acts will take the stage on May 27, serving as the official kick off for the summer season at the Opry.The Beach Boys will make their Grand Ole Opry debut performing LOCASH's current single with the duo, appropriately titled "Beach Boys. The song features band members Mike Love and Bruce Johnston on the fun new track.
"We can't wait to play the Grand Ole Opry together with our new friends The Beach Boys," LOCASH's Chris Lucas says. "And it being their Opry debut makes this an unforgettable night and experience for everyone. Let's take the Opry to The Beach Boys!"
In addition to performing their collaboration, both LOCASH and The Beach Boys will perform some of their own hits. Lorrie Morgan and Darryl Worley are also scheduled to appear on May 27. Highlights from the entire show will be featured on an upcoming episoe of Opry Live, airing this summer.
"I can already tell this is going to be one of those nights that we'll never forget," LOCASH's Preston Brust says. "First the Ryman Auditorium, then Stagecoach Festival, and now the Grand Ole Opry … with The Beach Boys! They've joked around about making us honorary Beach Boys, and now Mike, Bruce, and the boys all feel like family. Being a part of The Beach Boys' Opry debut is going to go down as one of the coolest moments of our entire career!"
"Beach Boys" is from a forthcoming LOCASH album. As soon as Lucas and Brust sat down to write the song, they dreamed of getting the legendary group to sing with them on the track, never imagining their dream would actually come true.
"The day we wrote 'Beach Boys,' I remember Chris and I dreaming of recording it with The Beach Boys," Brust recalls. "We never imagined that they'd hear it, let alone get the chance to lay down our parts with Mike and Bruce and actually feel like we were a part of a group that we've idolized for so long! It's crazy how it all became a reality and now the fun really begins!"
Fortunately, as soon as Love heard "Beach Boys," he knew he wanted to be part of the song.
"We had a blast collaborating with Chris and Preston of LOCASH!" he says. "The song is so hooky – I can't get it out of my head. I love mixing it up! Country Rock met Surf Rock and created a fun summer hit!"
The Beach Boys are currently on their 60 Years of the Sounds of Summer 2022, celebrating six decades together as a band. On June 17, their newly-remastered and expanded version of Sounds of Summer: The Very Best of The Beach Boys, first released in 2003, will be released. Find music and tour dates at TheBeachBoys.com.
LOCASH is currently on their Woods & Water Tour. Find music and tour dates here. Tickets to all Grand Ole Opry shows are available at Opry.com.