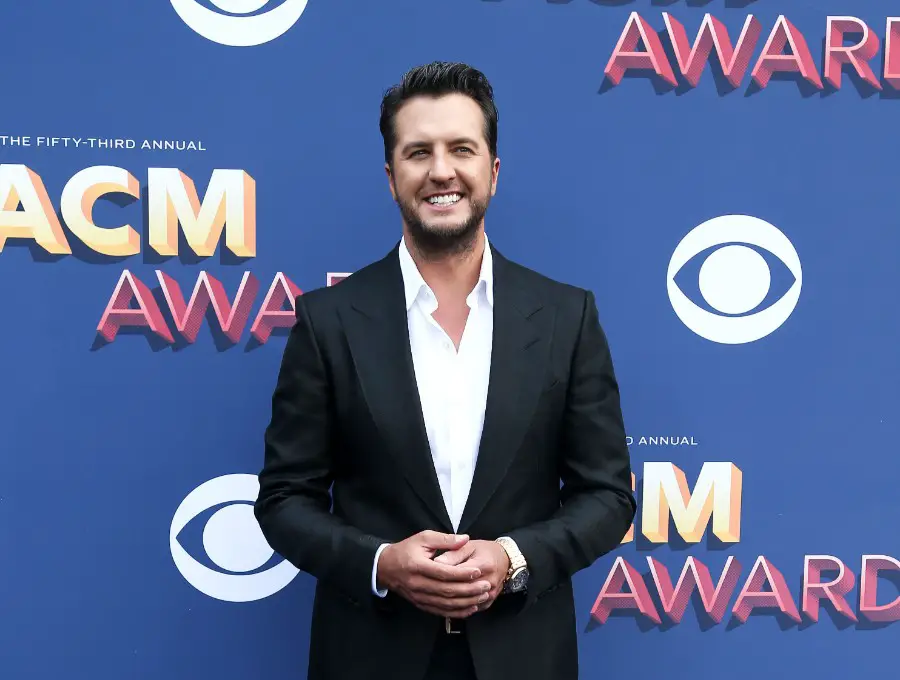 Luke Bryan was thrilled to be nominated for Entertainer of the Year at the recent ACM Awards, but he never imagined he would actually win. The 44-year-old, who was in Los Angeles filming American Idol when the ceremony aired, has been nominated every year since 2012, but didn't imagine he would claim the evening's top prize, especially while he was on the West Coast.
"I was really surprised, and really happy," Bryan admitted on The Bobby Bones Show. "It felt like the other two times I had won the ACMs. Under the circumstances it was fun, and the best way we could really celebrate it. But I wasn't in Nashville, so I couldn't go celebrate with my record label, and my booking agent, and my promoters and stuff, so I just had a couple of celebratory toasts in LA, and then I got on the plane, flew through the night, and got back home."
Bryan first won the ACM Award for Entertainer of the Year in 2013, an honor he will never, ever forget.
"The first time was just such a huge deal," Bryan recounts. "It just has huge implications, your first time. When you're out scratching and clawing every day for validation of what you're about. Whenever you get a little bit of that validation, it's just the coolest feeling in the world … Once you get nominated, and you're kind of in the game, that's when you start going, 'God, it would be amazing to win.'
"So the first one was pretty amazing," he adds. "It was really emotional. It was really, really emotional for my family, and everything we had been through. It just felt like a great amazing day, and an amazing dream."
When Bryan accepted the Entertainer of the Year trophy in 2013, he gave a heartfelt — and deeply emotional — speech from stage.
"What I always wanted to be was just a country singer that got to ride on a tour bus, and show up at a new stage, and play music every night," Bryan said at the 2013 ACM Awards ceremony. "Every time I step on stage, it is a blessing to me to play for fans … This is the defining moment of my life, and it means the world to me. I will never take it for granted."
Bryan will kick off his Proud to Be Right Here Tour in July, after rescheduling it from its originally-scheduled run in 2020, due to the pandemic. Find tour dates at LukeBryan.com..