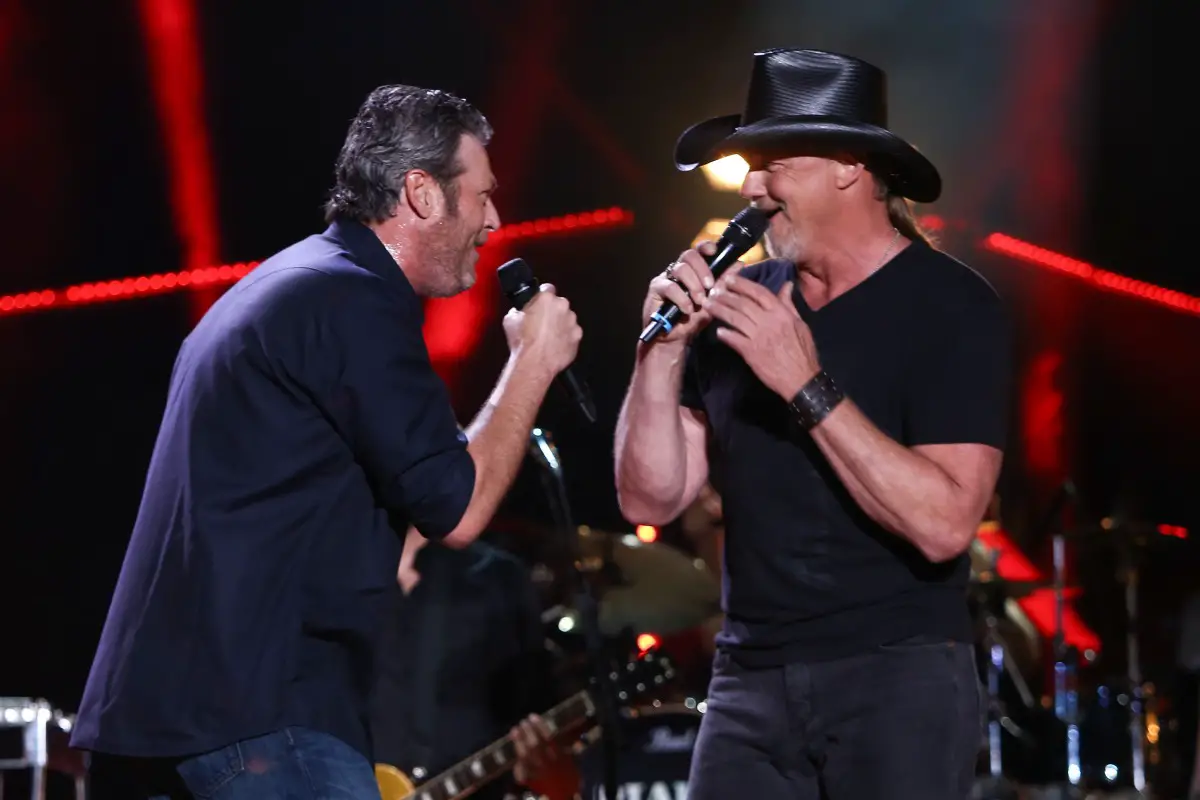 Trace Adkins' 25-track The Way I Wanna Go album, released on August 27, features an impressive list of collaborators, including Melissa Etheridge, Pitbull, Luke Bryan, Keb' Mo', Stevie Wonder, Snoop Dogg, and Adkins' good friend — and current touring partner — Blake Shelton. The two combine their talents on "If I Was a Woman," a song Adkins co-wrote, along with Sherrié Austin, Jeff Bates and Kenny Beard, which is a humorous take on why they would be a good catch for any woman.
Although the song, which says in part, "If I was a woman I'd love a man like me / I got a spread in Oklahoma stretch as far as the eye can see / Well I got my own little mountain back home in Tennessee / I got a jet airplane and I can fly you high and far / I got my own helicopter, I'll pick you up in your front yard," is very much from a man's perspective, Adkins reveals the song was actually Austin's idea.
"That came from Sherrié," Adkins tells Everything Nash. "Sherrié Austin got to chatting with me and Jeff Bates and Kenny Beard. And she's like, 'I think we should write a song, 'If I Was a Woman,' with all of you,' because she thought we were incredibly crude. And so she said, 'Let's see what the song would be like  coming from a guy's perspective of if you were a woman.' And I was like, 'Oh my God.' That was fun. And then I immediately thought this should be a duet with Blake. And so that's the approach that we took.
"Immediately, I said, 'Okay, let's write this as a duet, this back and forth thing," he continues. "I think we wrote the song in about 30 minutes. It was one of those that just wrote itself. Once we had the idea, the direction, it was easy."
Adkins and Shelton should have plenty of opportunities to perform "If I Was a Woman" together, since they are currently on the road, on Shelton's Friends and Heroes Tour. But the 59-year-old says they may not do it, thanks to Shelton.
"I hope he decides to do it," Adkins says. "I talked to him about that this morning. I said, 'Blake, we should do 'If I Was a Woman." He goes, 'I can't. I don't know it.' I said, 'Well, learn it, idiot.'"
The Way I Wanna Go marks 25 years since the Grand Ole Opry member's debut album, Dreamin' Out Loud, was released — a pivotal marker Adkins didn't want to let go unnoticed.
"I wanted to do a 25th anniversary record," Adkins says. "I could not let my 25th anniversary go by and not commemorate it somehow. That's a milestone in my life and I wasn't going to let it go by unnoticed, if for nobody else other than my family, I wasn't going to let that go. I'm gonna make you listen to this."
The Way I Wanna Go is available at TraceAdkins.com.