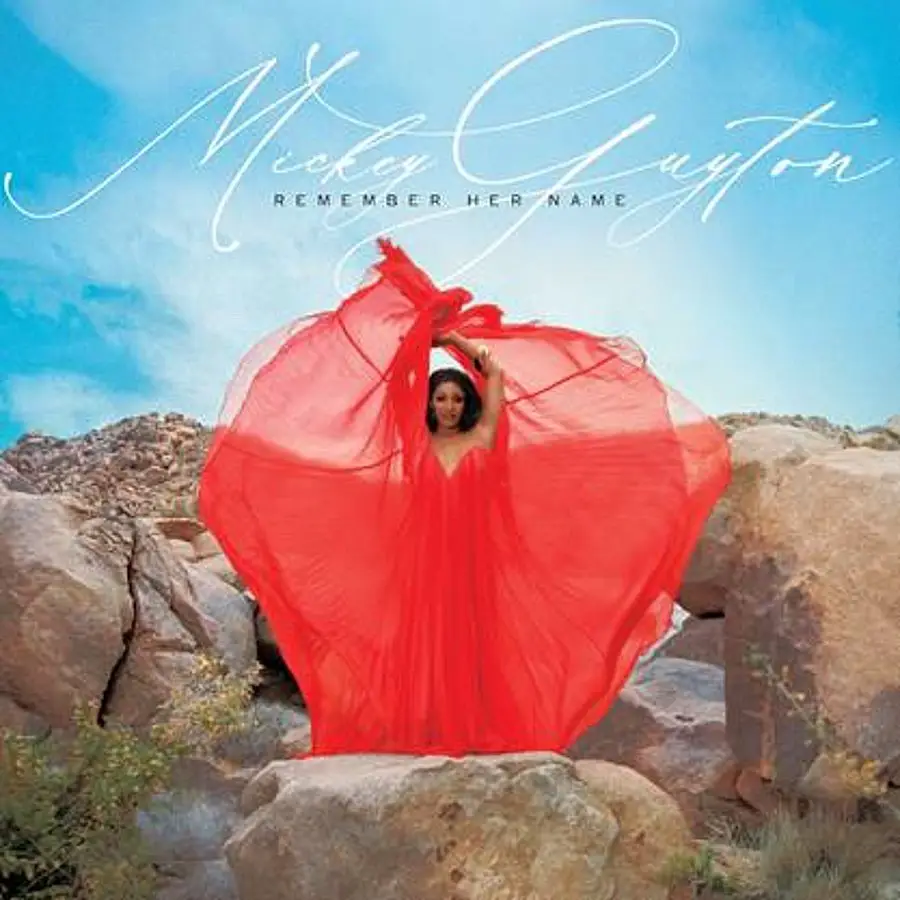 Mickey Guyton's full-length debut album is on its way! The new mother just announced Remember Her Name, an ambitious 16-track record will be out on September 24.
"Remember Her Name is a culmination of the last ten years of my life in Nashville," Guyton says. "This album is the closing of a chapter. All those years ago, I set out to create music that would make people feel self-empowered, loved, and comfortable with being themselves and this album holds true to all of that. I hope everyone who listens finds something that connects and speaks to them."
Guyton wrote 15 of the 16 songs on Remember Her Name, a record that was a decade-long labor of love for her, after fighting racism because she is a Black female singer in country music — a battle she still fights today.
"It's an exciting time. But I think to myself, 'Is it really changing?'" Guyton reflects to Billboard. "I'm still getting called an 'f-ing n-word' on Twitter, and I'm still getting my child called ugly and [being told] to go back to the projects. I think, 'There's no way it's changing.' And then I go to Nashville and do a show and see Black people backstage working, and that's something I didn't really see before."
Not only is Guyton tearing down walls in country music by being a Black female singer, but she also utilized a female producer for the project.
"I had a woman produce it, Karen Kosowski, and it has been really great," Guyton shares. "I found her after years of going through the whole Nashville circle. She's a truly incredible woman."
See a track list for Remember Her Name below, and pre-order the album at here.
Remember Her Name Track List
1. Remember Her Name (Mickey Guyton, Parker Welling, Blake Hubbard, Jarrod Ingram)
Produced by Karen Kosowski
2. All American (Mickey Guyton, Victoria Banks, Emma-Lee, Karen Kosowski)
Produced by Karen Kosowski
3. Different (Mickey Guyton, Emma-Lee, Karen Kosowski)
Produced by Karen Kosowski
4. Love My Hair (Mickey Guyton, Anna Krantz)
Produced by Karen Kosowski with additional production by Johnny Simmen
5. Lay It On Me (Mickey Guyton, Jaden Michaels, Gavin Slate)
Produced by Karen Kosowski and Gavin Slate
6. Higher (Mickey Guyton, Nathan Chapman, Fraser Churchill, Preston Glass, Narada Walden) Produced by Nathan Chapman
7. Dancing In The Living Room (Mickey Guyton, Karen Kosowski, Victoria Banks, Emma-Lee)
Produced by Karen Kosowski
8. Do You Really Wanna Know (Mickey Guyton, Melissa Fuller, Andy Skib)
Produced by Andy Skib
9. Black Like Me (Mickey Guyton, Emma Davidson-Dillon, Fraser Churchill, Nathan Chapman) Produced by Nathan Chapman and Forest Whitehead
10. Words (Mickey Guyton, Abbey Cone, David Kalmusky)
Produced by David Kalmusky
11. What Are You Gonna Tell Her? (Mickey Guyton, Karen Kosowski, Victoria Banks, Emma-Lee) Produced by Karen Kosowski
12. Smoke (Mickey Guyton, Nathan Chapman, Balewa Muhammad)
Produced by Karen Kosowski
13. Rosé (Mickey Guyton, Karen Kosowski, Victoria Banks)
Produced by Karen Kosowski and Forest Whitehead
14. Indigo (Mickey Guyton, Jimmy Robbins, Laura Veltz, Mozella)
Produced by Jimmy Robbins
15.If I Were A Boy (Toby Gad, Brittany Jean Carlson)
Produced by Karen Kosowski
16. Better Than You Left Me (Fly Higher Version) (Mickey Guyton, Nathan Chapman, Jennifer Hanson, Jenn Schott) Produced by Johnny Simmen