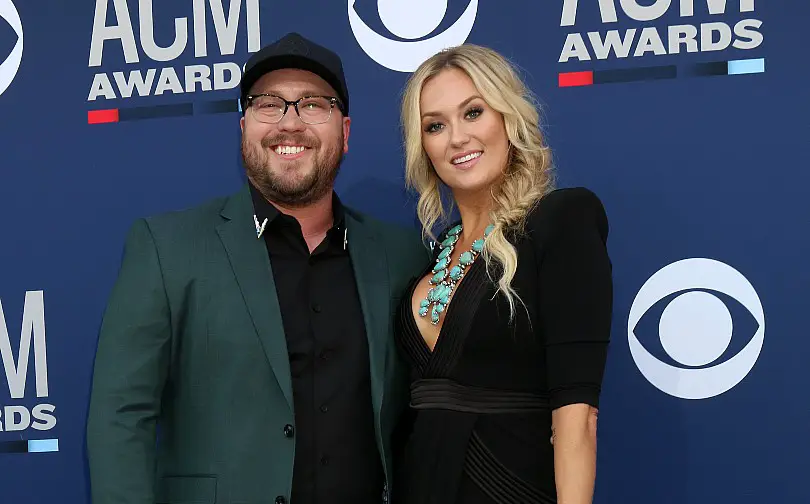 Mitchell Tenpenny is getting married! The 32-year-old proposed to his longtime girlfriend, fellow singer Meghan Patrick, at Losers Bar & Grill in Nashville.
"I met Meghan here so it was the perfect place — and hey, I got engaged 'at the end of a bar!'" Tenpenny tells People, referring to his recent "At the End Of a Bar" collaboration with Chris Young.
Tenpenny decided to pop the question around the holidays, so both families could be part of the celebration. He shared photos on social media of an elaborate proposal, complete with the words "MARRY ME" spelled out around flowers shaped as a heart, with Tenpenny and Patrick in the middle.
"With my family coming into town this weekend I thought maybe, because we have talked about this for a while," Patrick says. "But I did not expect this! This is the most perfect engagement I could have ever imagined."
The engagement might have been perfect, but it didn't exactly go according to plan — not that either Tenpenny or Patrick minded.
"I had a whole speech planned and it disappeared [in the moment]," Tenpenny recounts. "I wasn't able to say everything I wanted to. I was nervous — and relieved. She was crying, I was crying. All I wanted was to hear her say yes!"
"I also thought there would be all these things I would have said," Patrick adds. "And all I could get out was 'Yes!' Then we both awkwardly stumbled around trying to get the ring on my finger."
Tenpenny released his Naughty List Christmas album in October, which includes both covers and originals. The new record follows his Midtown Diaries EP, which he co-wrote entirely, sharing a personal side of his own life with all eight tracks.
"It's a combination of about three years of songs," Tenpenny tells Everything Nash of the project. "It's hard to pick eight songs on an EP when you've written 500, and a lot of great songs with awesome people like HARDY, and some of the best songwriters in Nashville. And so, I really had to go back and just look at these songs and find out, 'Am I still in that same place now, like I was when I wrote it ?'"
Find all of Tenpenny's music at at Mitchell10Penny.com.
Click HERE to subscribe to our YouTube channel.