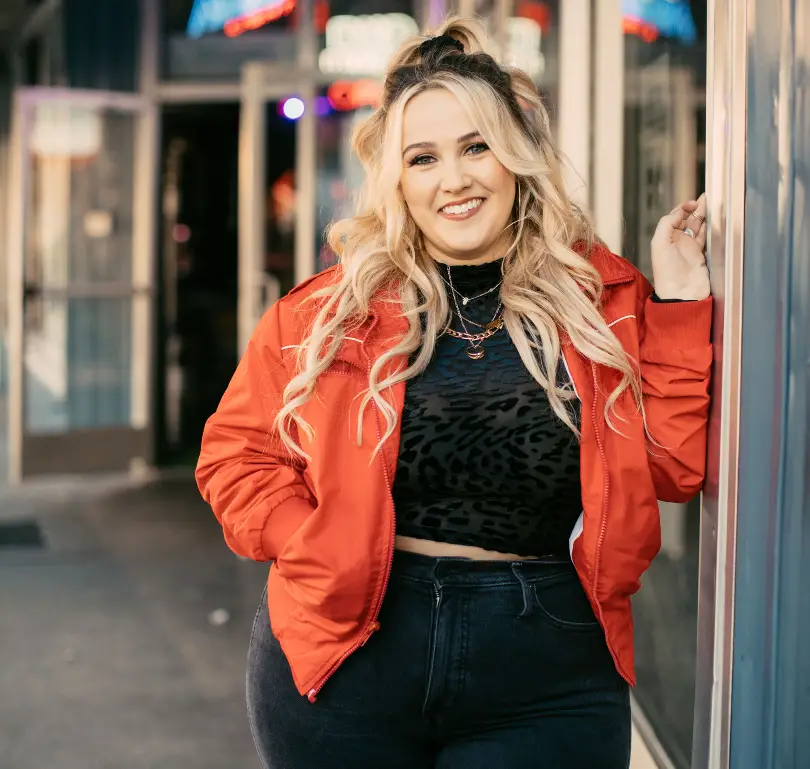 Priscilla Block just dropped her freshman Welcome To The Block Party album. The ACM-nominated star wrote all 12 songs on the record, including the telling song, "Thick Thighs." In an age where society celebrates thin and skinny, even if it's unhealthy, Block was unafraid to challenge societal norms in her new song.
"I'm a curvy girl," Block tells Everything Nash. "I'm always going to be a curvy girl. And I remember a time in my life that I was so insecure about my weight. When I hit puberty, I all of a sudden got big boobs and a big butt, and that wasn't cool. Back then, you weren't curvy, you were just fat. I remember years and years and years of being so sad, as a little girl. I look back on times in my life and I didn't enjoy going to the beach with my friends. I didn't enjoy anything, 'cause I was so insecure."
Block was already working on self-acceptance when she wrote "Thick Thighs," which, perhaps ironically, helped her love herself — and her curves — even more.
"That song really helped shape me, and make me more confident, when I started hearing the response from people," Block shares. "I remember singing that song out the first time at downtown Puckett's in Nashville, and literally the restaurant went crazy. Everyone was just eating their food, and then it was like a freaking storm in there. And I'm like, 'Man, this is cool. I can own this about me.'  It's so crazy because before that song, I felt like I was just trying to sound like something I wasn't, and write songs that everyone had heard, and then 'Thick Thighs came, and I'm like, 'This is me.'
"And why wouldn't I own being a curvy girl?" she continues. "And also, I think the best thing in the world is to just call yourself out so no one else can call you out for it. So if I ever see a magazine saying I'm fat, I'm just gonna say, 'Hey, listen to my song.'"
Even Block's "Thick Thighs" video celebrates her curves, an intentional move on her part to illustrate the message of the song.
"I just was like, if I'm gonna go for it, I'm gonna go for it," Block says. "I'm gonna be twerking in a kitty pool. I'm gonna show my curves. I am gonna own this song, I'm gonna own being curvy and embrace it and not try and look like the skinniest girl on this video.' That defeats the purpose."
"Thick Thighs" is just one of the songs on Welcome To The Block Party that illustrates how Block wants to approach her career — with confidence.
"I want approachability," Block tells Everything Nash. "I've lived it, and I want people to feel okay with putting themselves out there, and not trying to be anything that they're not. I want people to believe in themselves when they listen to this album and be like, 'She did this. I can do it too.' There is something really special about it. Dreams come true."
Block just kicked off her Welcome To The Block Party Tour. Purchase Welcome To The Block Party and find tour dates here.