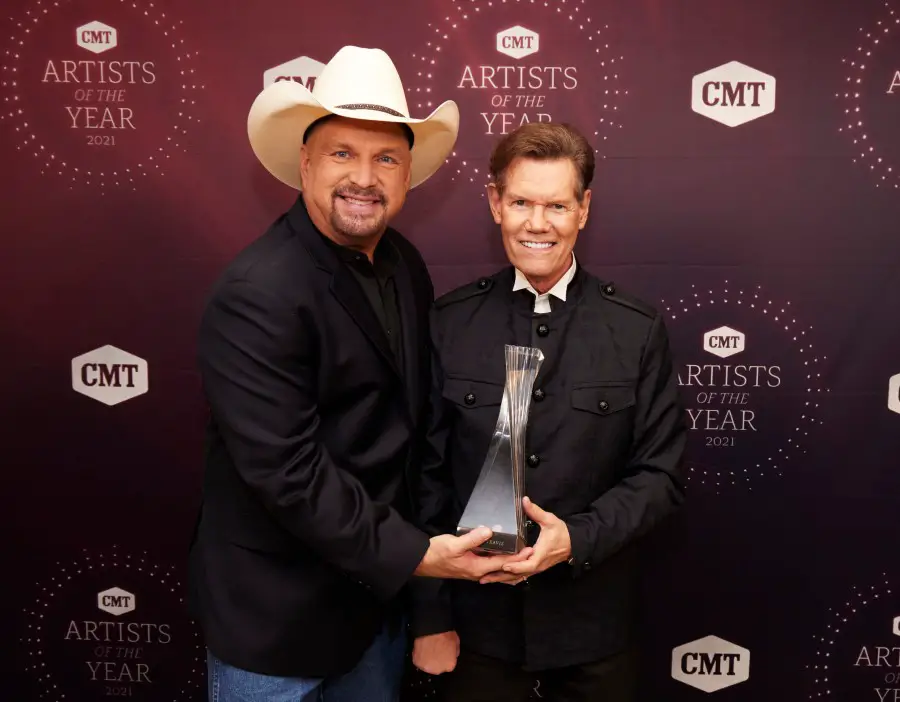 Garth Brooks might be a big fan of Randy Travis, but the love definitely goes both ways. Less than a week after Brooks presented Travis with the award for Artist of a Lifetime, during the CMT Artists of the Year ceremony, Travis is speaking out about his deep love and affection for the "Friends in Low Places" singer.
"When my last silent prayer is said, I'll thank God for [Garth Brooks] in my life," Travis said, in a touching post shared on Instagram about Brooks. "Our lives are like a mountain range — each a separate mountain, a different elevation, a different climb to the top, with different views — but it takes them all to make a range. The higher you go, the more you see, the greater the rush, the harder the fall. I've had my share of it all. Now, I have the chance to glance back on ones that made my climb better, easier and more worthwhile.
"Garth Brooks came along right behind me and kept cheering me on as he climbed his own 'taller' mountain!" he continued. "I'm so glad one was near the other. I'm on the other side of my mountain, so we don't see each other as much; but, never a day goes by that I doubt Garth is still there for me — telling the world now, what he told me back then. It took us all to get us where we are — to see what we saw, and do what we did — and what a beautiful range we made!
"Thank you, Garth, for the time you always take from your climb, to check on me and share your kind words with the world about what I meant to you," he concluded. "I may have helped bring our genre back to life, but you taught it how to live! God bless you and [Trisha Yearwood], always, as y'all have blessed multitudes, daily. I love ya, Brother."
During Brooks' presentation to Travis, he gave honor to Travis for his numerous contributions to country music.
"I've said it before and I'll say it again: 'Randy Travis single-handedly saved country music,'" Brooks said at the time. "Even though it happened in the '80s, still today, I wouldn't be standing here if it wasn't for Randy Travis. I don't think any of us would be. This is totally my opinion — it doesn't have to be yours — but every artist in country music that takes the stage over the next hundred years should bow to this man and thank him for his contributions to country.
"I love him," he added. "Artists like this one only comes along once in a lifetime, and I know if you're like me, you pray that another Randy Travis shows up every day."