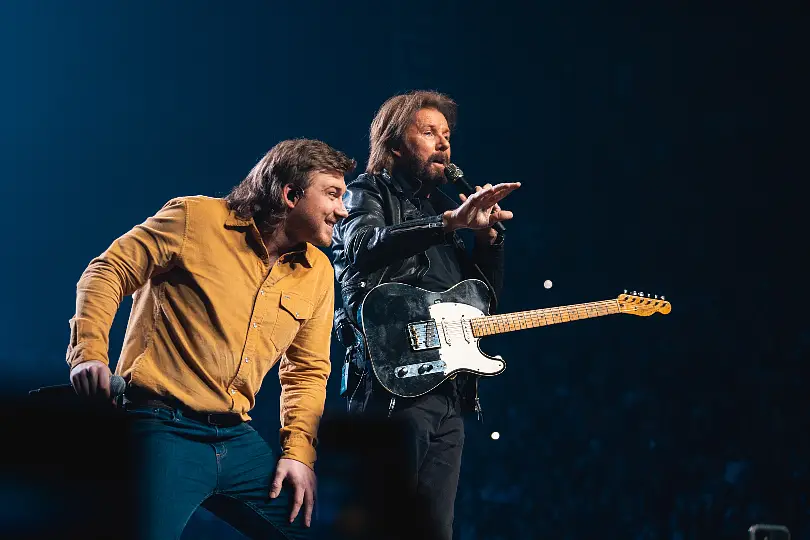 Morgan Wallen performed on Wednesday night, March 16, for the first of his three nights at Nashville's Bridgestone Arena, as part of his Dangerous Tour, where he was joined by a few surprise guests, including Ronnie Dunn, Jimmie Allen and more.
Dunn surprised the crowd by joining Wallen halfway through his song, "Talkin' Tennessee," from his debut If I Know Me album. Dunn remained on stage to sing the Brooks & Dunn classic hit, "Neon Moon."
Allen also joined Wallen on stage, towards the end of the night, to sing "The Way I Talk." Other artists that shared the stage with Tennessee native include his opening acts HARDY and Larry Fleet. HARDY sang "He Went to Jared," while Fleet joined Wallen on "Where I Find God." ERNEST also sang with Wallen, on their current Top 25 hit, "Flower Shops."
Wallen was blown away by his reception from Music City, one year after he thought his career might be over.
"I really appreciate you being here tonight," Wallen said from stage. "I got a lot of people I care about here, a lot of people who believed in me for a long time are in the building tonight… This is really special to me."
It's fitting that both HARDY and Allen joined Wallen on stage, since they have been outspoken advocates for him, since he came under fire last year for uttering a racial slur.
"To know that the entire country music industry voted for him to win that — everybody deserves a second chance, and deserves a chance to fight for themselves, and that's exactly what's happening," HARDY told Entertainment Tonight, shortly after Wallen's Dangerous: The Double Album won the ACM Award for Album of the Year. "So this was bigger than that award for him. It meant a lot, and I'm very proud of him."
Allen also came to Wallen's defense, not long after Wallen's actions made headlines.
"After it happened, I reached out to him, and we talked every day until he left," Allen revealed on Bobby Bones' Bobbycast podcast. "I just kept it at 100. I said, 'Bro, no matter how drunk, whatever you did, there's three things we can't do. We can't say the n-word if you ain't black. You can't say the f-word if you ain't gay, and you can't beat women. Three things."
Although Allen was direct in his words with Wallen, he still became a daily source of support for him, until Wallen stepped away to do some work on himself.
"Just because I don't agree with what he said, doesn't mean I should banish him … If we want to make the world a better place, we have to do the work, and the work is putting ourselves in uncomfortable situations," Allen said. "When Morgan said what he said, I had two choices: I could yell at him and bash at him on social media, or I could take some time and really process the whole thing, and look at who Morgan is, look at Morgan's state of mind when he said that, look at Morgan's history, the type of music he listens to."
Wallen's Dangerous Tour continues with two more shows at Bridgestone Arena. His tour wraps on September 24 and 25 with two shows at Crypto.com Arena in Los Angeles, California. Find tour dates at MorganWallen.com.
Photo Credit: Courtesy of EB Media / David Lehr