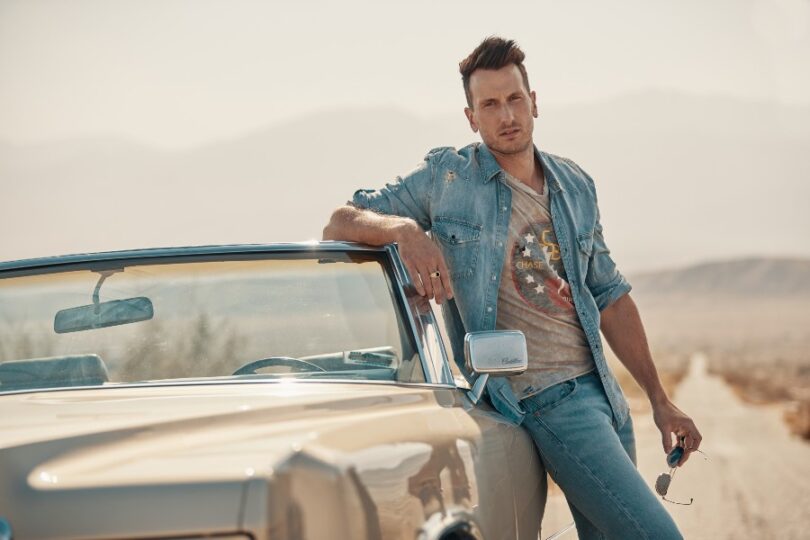 Russell Dickerson has set his sights high — very high. The Tennessee native has watched his career explode in recent years, starting with the release of "Yours" in 2015. Since then, Dickerson has had back-to-back No. 1 singles with "Blue Tacoma," "Every Little Thing" and "Love You Like I Used To," and seems poised to have another chart-topping single with his current hit, "Home Sweet."
He is also currently selling out venues on his headlining All Yours, All Night Tour, and will then serve as direct support for Tim McGraw, on his McGraw Tour 2022. It's a list of impressive feats for any artist, but according to Dickerson, he's just getting started.
"Garth Brooks is like the pinnacle," Dickerson tells Fox News. "I mean, he's the highest-selling RIAA artist of all time – over Michael Jackson, over the Beatles. So, that's what I have my sights set on. And why not? If you're not trying to be the greatest, I don't understand what you are doing this for."
Dickerson is already on the right track. The father of one is earning rave reviews for his non-stop, high-energy show, which he says is simply him following in the footstep of those who have gone before him.
"I feel like people have said that about my show – that it's a new experience for them. People are like, 'Dude, you go at 120 octanes for 100 minutes – it's insane,'" Dickerson acknowledges. "But hearing Garth Brooks' In Pieces, that was one of my favorite all-time country records. And then, Tim McGraw's A Place in the Sun, that's another one. Those are the kind of legendary albums that careers are built on."
Dickerson is a fan of not just country music, but of all music. In fact, two of his biggest musical idols were anything but country.
"Michael Jackson was one of my first," the 34-year-old says, recalling artists who inspired him musically. "That would be one of them, but I think another would be Usher. I remember in fifth grade, his [1997] My Way album, and I absolutely wore it out. Just to be in so early on a legendary artist like that. I mean, he was like a teenager at the time or whatever it was. And just to hear that back in the day and to follow him and see him grow into the living legend that he is, man. That's probably one of my top, top choices, for sure."
Dickerson's love of other styles of music is what led him to collaborate with pop singer Jake Scott on "She Likes It," which was released last fall.
"He's a pop guy, and it's like, why would we not write a song together and figure out if we can make magic? And we did," Dickerson reflects. "So it's okay that there are so many different types of music. I feel like people just get so close-minded with country music only. They're like, 'It ain't sounding like it used to.' And, well yeah — it's been 40 years."
Dickerson will forever remain a country artist, in a form and a style that makes sense to him.
"I always have been, and I will always think this, but the purists just frustrate me so much," Dickerson says. "They're like, 'Oh, that ain't Merle Haggard' or whatever. It's like, 'Dude, it ain't the '70s either, bro. It's 2022.' Collaboration is so easy and so available to everybody, why would we not try?"
Dickerson will wrap up his All Yours, All Night Tour on March 25 with a show at Nashville's Ryman Auditorium. Find all of his upcoming shows by visiting his website.