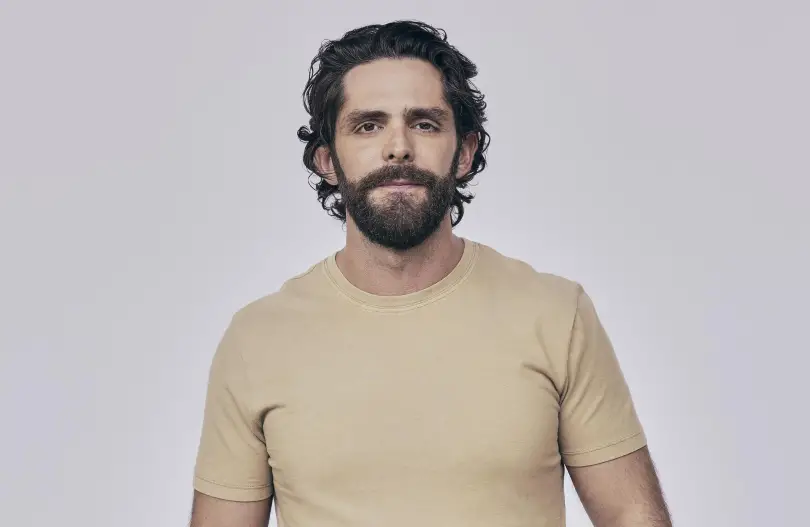 Thomas Rhett's life is anything but quiet these days, and he wouldn't have it any other way. Rhett and his wife, Lauren Akins, have four children ages six and under, including three-month-old Lillie Carolina, which means time for himself is rare — not that he's complaining.
"I keep telling people it's just complete chaos, but it's the kind of chaos that you dream about," Rhett tells People. "We're just trucking through and doing the best job that we can to be parents and raising these girls right."
When Rhett isn't on the road, he makes it a point to be very present with his family, and spending one-on-one time with each daughter.
"I love just diving into their hobbies with them because that's what my dad with me," says the singer. "It's a new hobby every week — we're starting to ride horses now."
Rhett prioritizes time with his little girls, but he also makes sure he and Akins have time together as well, even if they have to work for it.
"It's easy to kind of get lost in just the daily get the kids to school, pick the kids up, take them to gymnastics, do this, do that, and by the time you hit the pillow, you're just kind of out," Rhett admits. "So we have to really strategically make time to just sit and have dinner together, have a glass of wine together, whatever it is. And it's been really awesome for our marriage."
Rhett will soon hit the road again on his Bring The Bar To You Tour, kicking off in June. The tour follows the release of his upcoming Where We Started album, out on April 1. Although Rhett's fans have yet to hear all of the tracks on his new set of tunes, his daughters are already very familiar with them — maybe a little too familiar.
"My kids are just looking for a vibe," Rhett explains, adding that "Church Boots" and "Bring The Bar To You" are among their favorite tracks. "They request those multiple times on the way to school, and they already know the words to the record, which is always a plus, when your kids actually like your music. Because it would suck if they didn't, you know? Sometimes we try to make up alternate words for ["Bring the Bar to You"] and I tell them, 'Hey, you probably shouldn't sing that at school.'"
Where We Started also includes a duet with Katy Perry, on the title track. A fan of the pop star since he was just 14, Rhett was blown away that she agreed to sing with him on "Where We Started." Although they recorded their parts separately, Rhett was able to meet Perry to film the song's video together, and found that they quickly bonded over their shared love of being a parent.
"I feel like when you're a parent and you talk to another parent it ends up being the majority of the conversation that you have because that's just what your life is consumed in," Rhett says. "So to be able to talk dad-ing and mom-ing with someone like Katy was kind of hilarious, but awesome at the same time."
All of Rhett's upcoming shows, as well as pre-order for Where We Started, is available at ThomasRhett.com.