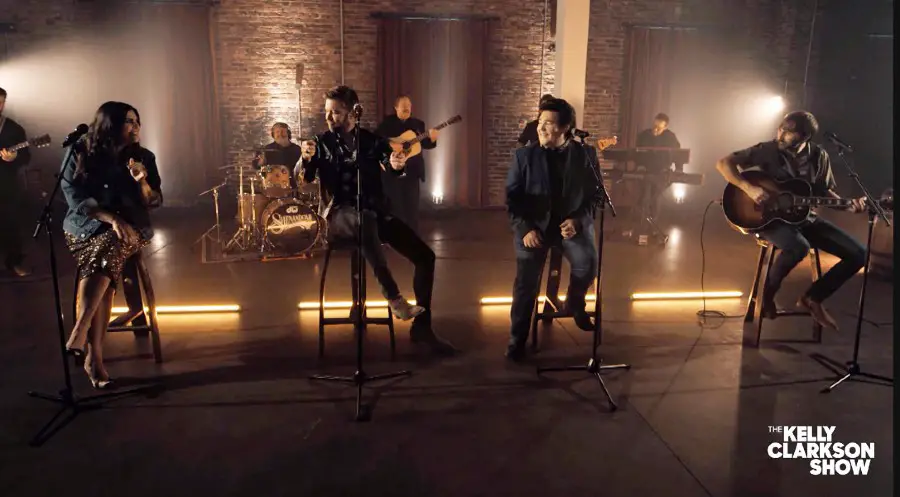 Shenandoah just released their collaborative album, Every Road, which includes duets with several hit country artists, including Lady A. The trio sings with Shenandoah on "Every Time I Look at You," which was written by Charles Kelly, Hillary Scott and Dave Haywood, along with Dallas Davidson.
Shenandoah members Marty Raybon and Mike McGuire joined Lady A on The Kelly Clarkson Show to not only virtually perform the song, but also share what it meant for the two iconic acts to join their talents on Every Road.
"It's a collaboration record," Marty told Kelly Clarkson. "Dierks Bentley's on it, Cody Johnson from Texas, a buddy of ours that we met down there, Brad Paisley's on it. We got Ashley McBryde, she's part of it. Carly Pearce — it's just a record that really, it was something that we wanted to do, as far as trying to do a record, and to invite people to be a part of it. But we didn't want to do a record that was a Greatest Hits.
"In other words, everybody come over and do 'Two Dozen Roses' with us," he continued. "Everybody come over and do 'Church on Cumberland Road.' We wanted to have new material, because this actually is the first record we've done in 20 years, that we've had a whole album that's all new material, and the first time I believe it's ever been done with guest artists."
It was Lady A who sent Shenandoah the song, as a possibility for them to include on their new record.
"The great thing about what Lady A had sent us, they had sent us the tune that they had written, and that was a wonderful piece of music," Marty praised. "When we cut the tracks and got the vocals on it, then all of a sudden, when Lady A put their vocals on it as well, just listen to it.
"It'll make you take back stuff you ain't stole," he added with a laugh. "Them cats can sing. They just can. This whole album, it's literally a gathering of that type of material."
Lady A ran into Shenandoah at a show backstage, which is when Marty approached Charles with the idea of collaborating together, although the Lady A singer wasn't sure how serious Marty was about the offer.
"I kind of geeked out on these guys, honestly," Charles conceded. "We grew up on this music. I'm not gonna lie, I had a little bit of a real big fan moment backstage. Marty said, 'Hey, we're gonna work on a record. We should do something. We should exchange numbers' … It just started snowballing. That's one of those things; you can have those conversations, but for it to really come together into fruition, in the way that they got all these amazing artists.
"We really feel blessed to be a part of it," he remarked. "This is a really cool project to be a part of. Just knowing the other artists that are on it, this could be a Grammy-winning collaboration project, and I'm just so proud to be a part of it."
Every Road is available for purchase at Shenandoah's website.