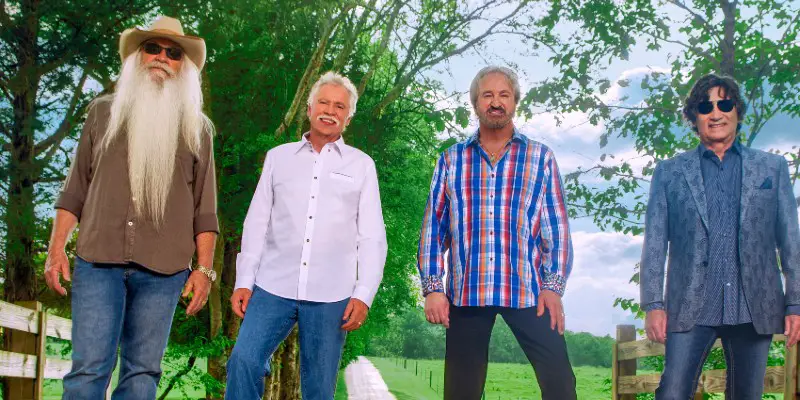 The Oak Ridge Boys have been added to the lineup for this weekend's Big Machine Music City Grand Prix, taking place August 6 to 8 in downtown Nashville. The historic group will headline the Grand Ole Prix concert on Sunday, August 8, at the conclusion of the race. Alan Jackson was originally scheduled to perform, but had to cancel due to tour-related logistics. The concert will mark the tenth anniversary of the Oak Ridge Boys becoming a member of the Grand Ole Opry, which took place on August 6, 2011.
"We are honored and, to be quite honest, very excited about performing in Nashville after the GRAND PRIX," The Oak Ridge Boys' Joe Bonsall said. "Thank you Grand Ole Opry for inviting us to take part in this historical event. Let's go racing, Nashville!"
Danielle Bradbery, Justin Moore and Callista Clark and  will also perform for the Grand Ole Prix concert, part of a star-studded weekend that will also include performances by Jon Pardi, Riley Green,  Jamey Johnson, Tyler Farr and Vince Neil and Brooks & Dunn, who will headline the Freedom Friday Tribute Concert: Music City's Best Honor All Those Who Serve and Protect, which will take place on Friday night, August 6.
The Oak Ridge Boys have been together in their current lineup for almost 50 years, a rare gift the four members don't take for granted.
"The Oak Ridge Boys still sing big. All four of them," Joe Bonsall tells Everything Nash. "That's been an incredible blessing because to me, if you're going to go out there on stage and you're going to still carry all that history that we bring to the States, more than anybody else …  to still be performing at that level with our kick band behind us out there singing big four-part harmony on hit after hit after hit, throwing in some gospel, wave the flag a little, here's a couple of new songs from the new album, and do it all at that level, and then celebrate 40 years of 'Elvira' for crying out loud, it's just an amazing blessing to still be able to do that."
The 2.17-mile course Big Machine Music City Grand Prix course will run through downtown Nashville, crossing the Cumberland River, via the Korean Veterans Memorial Bridge. The Music City Grand Prix is one of the only events in motorsports to cross a major body of water. Find more information at MusicCityGP.com.