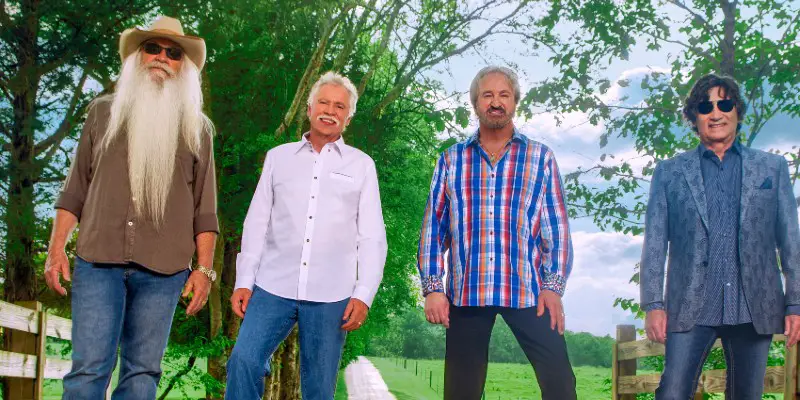 The Oak Ridge Boys remain one of the most successful, and historic, groups in country music, and they aren't slowing down. The group, which originated in its earliest form in the 1940s, has had its four current members — Joe Bonsall, William Lee Golden, Richard Sterban and Duane Allen — for 48 years, an almost unheard of feat for any group, in any genre.
"The road of life is a strange road, and there's all kinds of twists and turns along the way, and stuff you have to deal with," Bonsall reflects to Everything Nash. "We've all had to deal with different things. Yes, we're old guys now. We all break down a little bit these days and have to get things fixed, but God has given us good health and the ability — and this is important — to still sing good. See, that's the thing about getting older now. I know a lot of old guys that can't sing for nothing."
For Bonsall, the fact that all four members still sound like they did almost 50 years ago, is a gift he won't take for granted.
"The Oak Ridge Boys still sing big. All four of them," Bonsall notes. "That's been an incredible blessing because to me, if you're going to go out there on stage and you're going to still carry all that history that we bring to the States, more than anybody else …  to still be performing at that level with our kick band behind us out there singing big four-part harmony on hit after hit after hit, throwing in some gospel, wave the flag a little, here's a couple of new songs from the new album, and do it all at that level, and then celebrate 40 years of 'Elvira' for crying out loud, it's just an amazing blessing to still be able to do that."
Not only are The Oak Ridge Boys very active, they are still moving full speed ahead, with big plans for the future as well.
"We've got a new album, Front Porch Singin'," Bonsall shares. "We're starting to sing. We're celebrating 'Elvira.' We're optimistic and feeling very blessed by the good Lord above that we're emerging from this pandemic, and that America is going to get back to being itself again, despite those that would like to stay back. I think they're very slim minority compared to what I'm seeing out there. And I think people are just ready to get cranking. I know I am."
The Oak Ridge Boys recorded Front Porch Singin' in the middle of the pandemic., offering even then a glimmer of hope that better days were still to come.
"The Oak Ridge Boys are one of the older, established Hall of Fame acts that people look to," Bonsall says. "Families look to. We're starting to crank again. We're starting to get back into the shows, and the crowds are just on fire. On fire. And I think they will be for this album too … The response has been unbelievable. I think this album is going to do really  well."
The Oak Ridge Boys are back out on the road in 2021. They will kick off 2022 with the Country Music Cruise, which takes place January 15 to 22. A limited number of cabins remain. For more information, and for exclusive pricing, visit CountryMusicCruise.com/everythingnash.
Find all of The Oak Ridge Boys' tour dates, and purchase their new album, by visiting OakRidgeBoys.com.