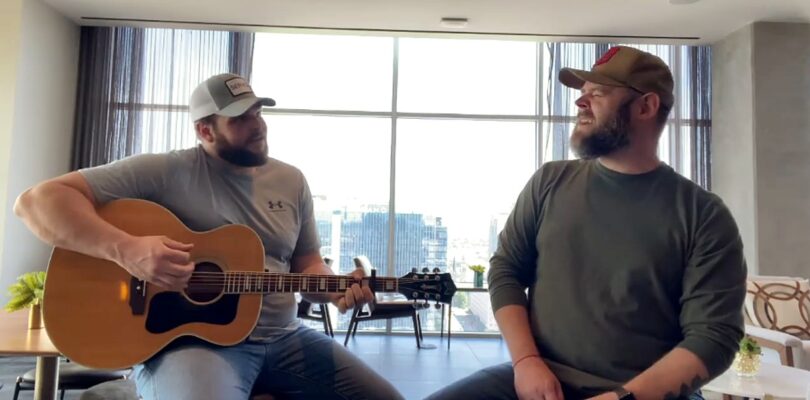 Two of the winners of The Voice have teamed up for one epic collaboration! Todd Tilghman, who was crowned the Season 18 winner of The Voice, is joined by Season 17 winner Jake Hoot, for their "In the Garden" duet, out now.
"In the Garden" began when the two singers got together to write, but ended up deep in conversation instead.
"I invited him over to write, and we just got to talking 'cause Todd, he's such a down-to-earth, sweet guy," Hoot tells Everything Nash. "He and Brooke both are. We just got to talking, and talked through our entire session of writing. We were supposed to write. And so I said, 'Well, let's not stop here. Let's go grab something to eat. But before we go, let's record something.' And so we recorded, just a little 30-second, one-minute clip of 'In the Garden,' which is an old hymn that we both love."
Tilghman has another collaboration coming out later this year, his duet with Collin Raye on "Love, Me,"  in honor of the song's 30th anniversary.
"I had a meeting with Collin, and let me say he is just really so nice," Tilghman tells Everything Nash. "He's so nice that we were immediately friends, which means we were immediately deep into conversation … I  said, 'Listen, we can talk all afternoon. This is all I have in the afternoon, but before we do that, the reason that I asked you to meet with me is because I would love to get with you, not do it on my own, but you and I together cut one of your classics, like 'Little Rock' or, or 'Not That Different,' or 'That Was a River,' or any of them.'"
"I didn't know if we should do something different, but he spoke up and said, 'Well, we've been talking about something special to do for the 30th anniversary of 'Love, Me,'" he continues. "'I feel like this would be perfect.'
Tilghman and Raye recorded their duet earlier this month. A release date has yet to be announced.
Download "In the Garden" here.