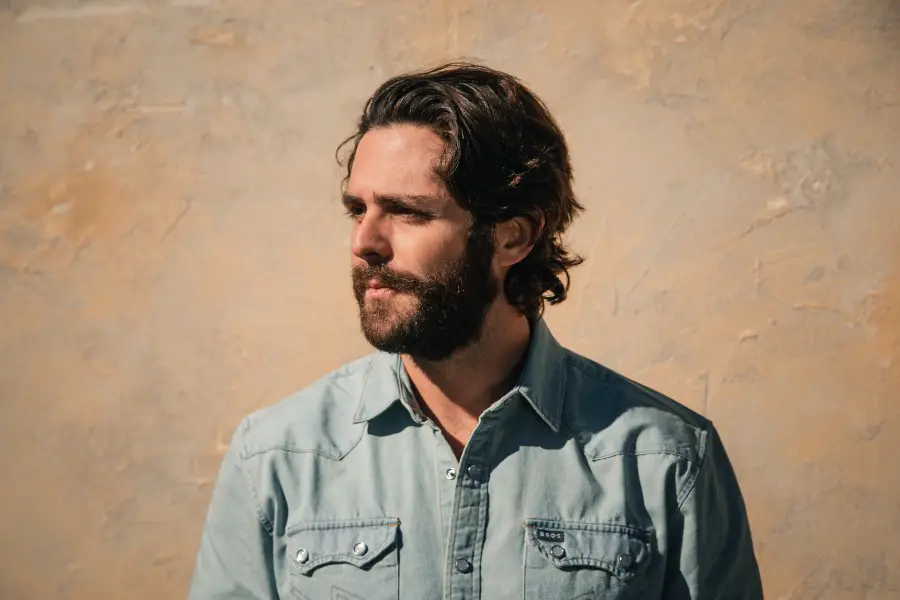 Thomas Rhett just shared a new song from his upcoming Where We Started album. The father of four dropped "Us Someday," a song he wrote with his dad, Rhett Akins and Jesse Frasure and Amy Wadge, which was nspired by the early years of his relationship with his now-wife, Lauren Akins.
"For me, this song is sort of talking to Lauren at 19 years old telling her, 'I know you think this is crazy, but I believe all of these things are going to happen for us,'" Rhett shares. "And now here we are, over ten years later, and most of those things actually happened, which is just the wildest thing," said Thomas Rhett. "I also love how different this song sounds from the rest on the project, it opens with just strings and a vocal. I hope people will listen and be able to relate with their own relationships."
Rhett has been open and honest about his relationship with Akins, whom he wed in 2012. The Georgia native admits their marriage hasn't always been easy, especially with his busy career. Fortunately the couple has learned to navigate even tough times, together.
"I think if you would've asked Lauren when she was like 17 years old if she would marry a country singer, her answer probably would have been absolutely not," Rhett concedes to BMLG. "But somehow we made our way back to each other. And she spent the entire first year of my road life on the bus with me and eight of my band members, and has seen probably 6,000 of my concerts, and has just put up with me as a person through all this stuff.
"I just want people to know that our life is not this fairytale land at all times," he continues. "We have our ups, we have our downs, but it's just about like sticking with each other through the thick and the thin, and how much she's had to sacrifice and how much we both had to sacrifice to make this whole thing called music work."
Where We Started will be released on April 1. The 15-track record, which includes collaborations with Katy Perry, Riley Green, Tyler Hubbard and Russell Dickerson, is a happy throwback to Rhett's early years of making music.
"These are songs that I felt like were the songs I was writing at the beginning of my career, and now have turned into something that I feel like I can put my stamp on and be like, 'We really did a great job writing those songs,'" Rhett told Everything Nash and other outlets at a recent media event. "And I think from a sonic standpoint, this record is extremely versatile. I feel like if you enjoyed my Center Point Road album, I think you're going to really enjoy this record as well. It's a lot of just great songs that remind you of your past, and also a lot of songs that make you want to party. And those two coming back to back to back to back make for a really unique listening experience."
Rhett will embark on his Bring the Bar to You Tour in June. Find all of his music and tour dates here.