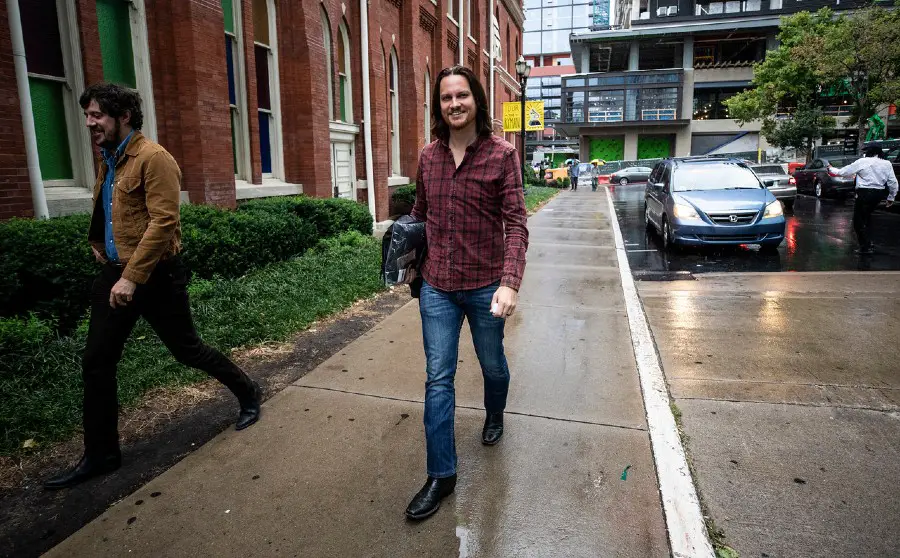 Home Free's Tim Foust is known for his deep, deep bass voice, but those rich vocals didn't come until later in life. The Texas native grew up loving harmonies, but thought he would always be a tenor.
"All my favorite music, what I noticed across all the different genres, was all my favorite music was whatever had a lot of vocal harmony in it," Foust recalls on radio station Willy 98.7. "I grew up in the Church of Christ, so if you're not familiar with that, it's all a cappella. The song service, it's just the congregation singing in four-part harmony, so that helped to fine-tune my ear, early on. But I was a late bloomer, so I had a really high, squeaky voice for a long time, and I always wanted to be able to sing along with the basses. That didn't come until a lot later."
A lot later, indeed, Foust was already making a name for himself as a talented singer when his voice suddenly changed.
"It was late in high school," Foust says. "I had already gotten into competing in some of the vocal choir competitions and stuff like that. I think it was like my sophomore year or something, I started out as a tenor and by the end of the year, I couldn't keep up with the high notes anymore."
Foust had been interacting with Home Free online for a while, and had performed some shows with them, before he finally officially joined the five-man group in 2012.
"I actually interfaced with those guys online, and we met Austin Brown, our high tenor, we met him on a cruise ship," Foust recounts. "But I had been in touch with them for a little while. I've done this sort of thing for a long time, and they were familiar with my work with some other groups, so we connected over the internet. But then we went on a cruise ship with guest entertainers, and Austin was one of the performers on the cruise ship."
After both Foust and Brown joined Home Free, the group finally earned a spot on The Sing-Off, after three failed attempts. Foust still vividly recalls their inaugural performance on the show, singing "Cruise" by Florida Georgia Line.
"That was very surreal, for sure," Foust says. "I grew up on mostly country music, but as I got a little older, I started really getting into some of the pop music of the '90s and stuff like that. Super-influenced by Boyz II Men and their vocal harmony, so having Shawn Stockman be a judge there on The Sing-Off was pretty crazy. Him, Jewel and Ben Folds have influenced me a lot as a writer, so it was definitely a little intimidating getting in front of those guys and about ten million viewers for our first episode of The Sing-Off. So definitely surreal, definitely a bit nerve-wracking."
The Sing-Off wasn't the last surreal moment Foust experienced as part of Home Free. The group has since been able to sing with several famous artists, including Lee Greenwood, Kenny Rogers, Don McLean and others. They also had a chance to perform live with the Oak Ridge Boys and Alabama as part of their Warmest Winter holiday special.
"I basically have a front-row seat to legend status. I have to remember to not just stare at them while the cameras are pointed at me," Foust shares. "To be able to trade off with Richard Sterban on bass lines, it couldn't be better than that."