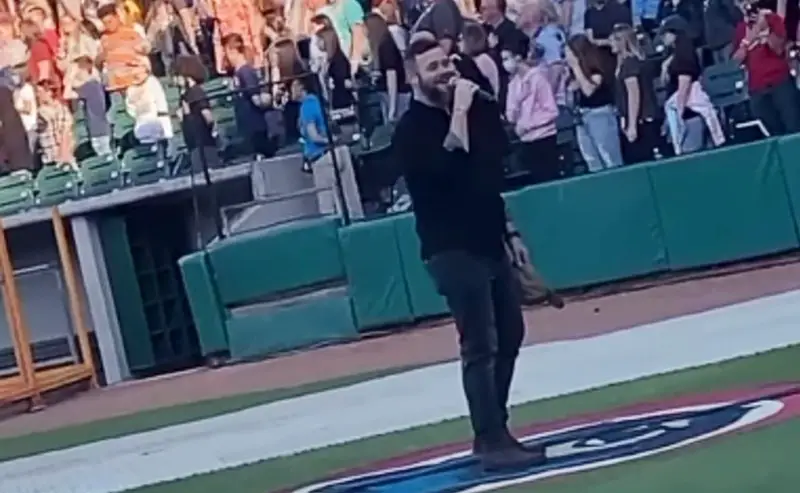 The National Anthem is considered one of the hardest songs to perform, but apparently not for Todd Tilghman. The Season 18 winner of The Voice nailed his a cappella rendition of the song, while performing as part of a line-up for the annual Winterfest, which also included For KING & COUNTRY, Voices of Lee and more.
Tilghman recently released an impromptu performance of "In the Garden" with Season 17 winner of  The Voice, Jake Hoot, but it seems like more music might be coming from the pair. Tilghman posted a selfie of the two together on social media, along with Tilghman's producer, Gordon Mote, captioning it, "Something fun's a-comin."
In addition to working on new music, Tilghman also has a new book coming out, Every Little Win: How Celebrating Small Victories Can Lead to Big Joy. The book, which he wrote with his wife, Brooke, shares Tilghman's unconventional journey from being a father of eight and a pastor, to becoming the winner of one of the most popular reality TV talent shows.
"I'm just a regular guy from Mississippi, a pastor," Tilghman explains. "I just sang in church; I didn't really sing professionally. So a lot of people might see The Voice as sort of the crowning achievement of my life. But really, our lives are where they are right now because of all of these little, daily victories that we had up to this point."
"You may think that you've messed up too bad, or you've gone too far for God to redeem it, but that's not true," Brooke added. "We want to show you and empower you that with God, all your stories are equal."
Tilghman and his family moved to just outside of Nashville after his win on The Voice, a surprisingly seamless transition, thanks to the couple's children.
"I don't want to take too much credit," Tilghman tells Everything Nash. "We just kind of kept living our lives, aside from the move. How we do our life at home, and just the way we are, we sort of kept just living our lives the way we always did. The little kids, they don't know. They're just happy. And my baby girl, she knows the words to all my songs, 'cause even the stuff that's not released, she gets to hear and listen to herself. But they seem fairly grounded about it."
Pre-order Every Little Win here.