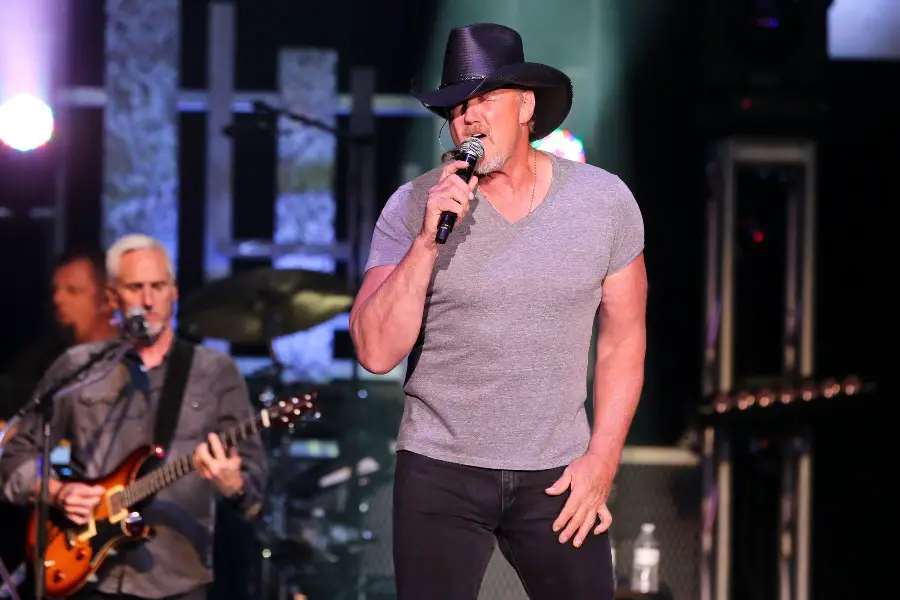 Trace Adkins is being forced to postpone a few of his shows on his The Way I Wanna Go Tour, after someone tested positive for COVID-19. The singer was slated to kick off the tour on December 1 in Tampa, Florida, but has canceled four concerts.
Adkins shared the disappointing news on social media.
Unfortunately this week's shows in Tampa (12/1), St. Augustine (12/2) and Immokalee (12/3) need to be postponed due to a positive COVID case in the touring crew. Additionally, Trace will not be performing on 12/4 in Orlando, FL.

Stay tuned for rescheduled dates and more info. pic.twitter.com/u5gmZgGijZ

— Trace Adkins (@TraceAdkins) November 30, 2021
The Louisiana native just released his 25-track The Way I Wanna Go album, celebrating 25 years since his debut  Dreamin' Out Loud album was released. The ambitious project featured numerous guest artists, including Melissa Etheridge, Pitbull, Blake Shelton, Luke Bryan, Keb' Mo', Stevie Wonder and Snoop Dogg.
"I wanted to do a 25th anniversary record," Adkins tells Everything Nash. "I could not let my 25th anniversary go by and not be commemorate it somehow. That's a milestone in my life and I wasn't going to let it go by unnoticed, if for nobody else other than my family, I wasn't going to let that go. I'm gonna make you listen to this."
Adkins used his time off of the road, because of the pandemic, to record all of the songs on The Way I Wanna Go.
"I just wanted to do 25 songs to commemorate 25 years," Adkins tells Everything Nash. "So we just kept cutting them until we hit 27 and then we quit. We had the whole year to do it, so why not? I thought, 'Let's just keep cutting.'"
Adkins' The Way I Wanna Go Tour includes a stop at one of his favorite places to perform: the Ryman Auditorium.
"The Ryman. Only two words, but I say them with such reverence," Adkins says of the hallowed venue. "It is my honor to be performing on this hallowed stage, at the Mother Church of Country music. It is such a special place, and I look forward to visiting again with great anticipation."
Adkins' next scheduled performance is now on December 18 in Bristol, Tennessee. Keep track of updates at TraceAdkins.com.