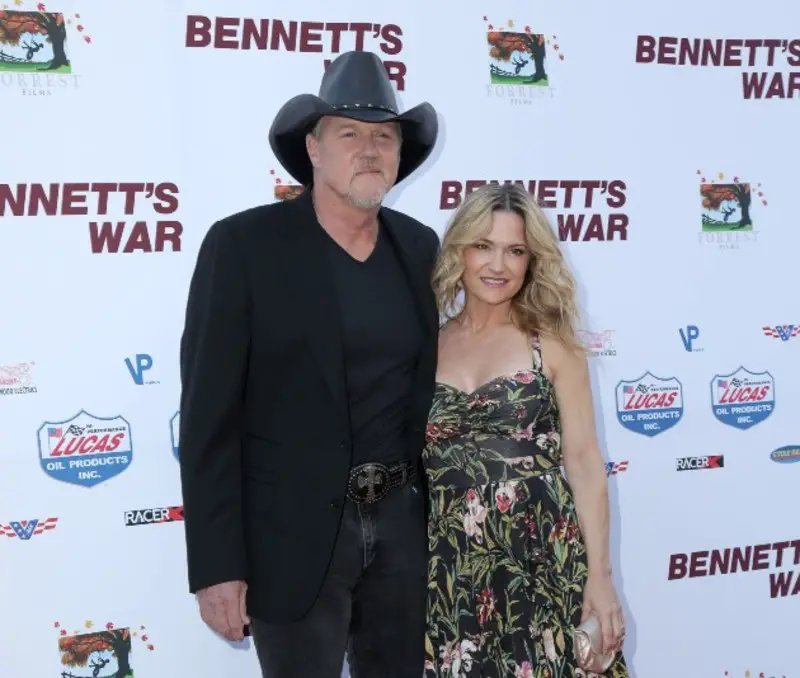 Trace Adkins wrote two of the 25 songs on his ambitious The Way I Wanna Go  album. The Grand Ole Opry member wrote his humorous duet with Blake Shelton, "If IWas a Woman," as well as the romantic, "It All Adds Up to Us." Adkins wrote "It All Adds Up to Us" with Kenny Beard and Matt Nolan, but says it's his wife, Victoria Pratt, who really deserves the credit for the sweet tune.
"It's just an idea I had," Adkins says in a video posted on social media. "Victoria, it doesn't make any sense that this incredibly beautiful, talented, intelligent, charming woman would be with me. It just doesn't make a lot of sense. It just doesn't add up on paper. And so, I was talking to KB about that, and we wrote it.
"It was one of those songs that, it didn't take long to write that song. It was less than an hour, probably. We just hammered it out and it was done. I love those songs when it feels like there's just something flowing through you, and it just comes out. It's like it's already written. You're just putting the vocal on it."
Trace explains how his wife, Victoria, inspired the song "It All Adds Up To Us."

Listen now: https://t.co/x9dISN1FWN pic.twitter.com/TrVqvmXC4z

— Trace Adkins (@TraceAdkins) September 15, 2021
Adkins previously said that Pratt has made a huge difference in every aspect of his life, and not just his music.
"I can't even begin to explain what a difference she's made in my life," Adkins told People. "She rejuvenated me and inspired me to take whatever time I have left and make the most of it…and then just make the best music that I can make."
"I can't take all the credit," he added. "She's my muse."
Adkins is celebrating the 25th anniversary of his debut Dreamin' Out Loud album with The Way I Wanna Go, a star-studded project that includes collaborations with Melissa Etheridge, Pitbull, Luke Bryan, Keb' Mo', Stevie Wonder and Snoop Dogg.
"I wanted to do a 25th anniversary record," Adkins tells Everything Nash. "I could not let my 25th anniversary go by and not be commemorate it somehow. That's a milestone in my life and I wasn't going to let it go by unnoticed, if for nobody else other than my family, I wasn't going to let that go. I'm gonna make you listen to this."
The Way I Wanna Go is available at TraceAdkins.com.