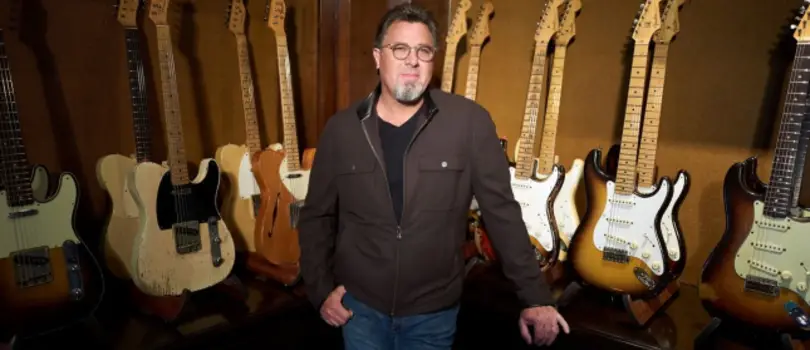 Vince Gill loves being a father, and a grandfather. The Country Music Hall of Fame member has five kids as part of his blended family with his wife, singer Amy Grant, and is now also a grandfather. Gill loves how he can fulfill both roles now, and seeing the hard work he put into them finally paying off.
"[I have] five great kids, a couple of grandkids," Gill tells UMG Nashville. "Those grandkids are the complete light of my life. You know, they just show up and the rest of the world can kiss my you-know-what. I say, 'We're just gonna go swing in the backyard. We're gonna wrestle on the bed. We're gonna eat those Goldfish [crackers], and nothing else seems to matter."
Gill is the proud father of his daughter, Jenny, from his first marriage (to Janis Oliver). While being the daughter of a superstar can't be easy, Gill is so grateful that he can see the fruits of his labor in his daughter, who is now also a mother.
"And then I think what I love seeing, more than anything, for my kid to finally understand what it means to love," he adds. "It's awesome to see my kid finally get it what that unconditional love really looks like and feels like."
Gill got to spend more time than ever with his children and grandchildren over the last two years, when he was off of the road due to the pandemic. Although he is now back to performing, both by himself and as part of the Eagles, the 65-year-old is so grateful for his time at home.
"That pesky little virus thing — I mean, nobody could dream this stuff up. It dawned on me in the middle of the pandemic that I hadn't had a break in 47 years," Gill tells Variety. "I had always traveled, always toured, always played, always worked, and never, ever stopped. It was a real interesting thing to have happen, and I didn't spend all my time practicing. I found a blessing in the break, and it was okay. But I miss singing all those songs that I've come up with over the last 40, 45 years, so I'm pretty fired up to go out there and do some of them again."
Find a complete list of all of Gill's upcoming shows at VinceGill.com.