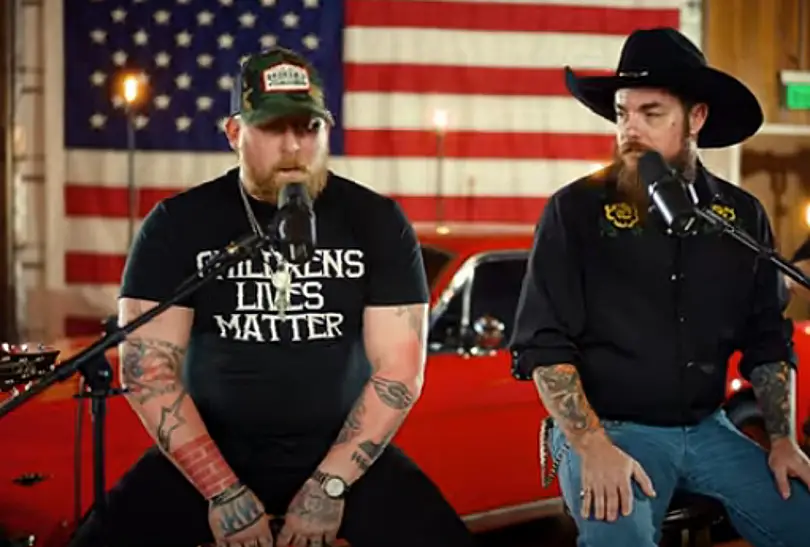 When the descendants of two of country music's most influential artists, namely Waylon Jennings and Keith Whitley, get together, magic happens. Whey Jennings, grandson of Waylon, and Jesse Keith Whitley, son of Keith, recently teamed up to perform one of Waylon Jennings' hits, "Waymore's Blues." The acoustic performance was part of Country Rebel's Stars and Stripes Sessions.
"Waymore's Blues" was originally released in 1975. Both Whey and Jesse have continued to pursue music, carrying on the legacy that preceded them. For Whey, he looks to his famous grandfather not only for his influence on his music, but on his sobriety as well.
"My grandfather's influenced pretty much everything I've ever done in music, because I always think about how he did it," Whey told Everything Nash. "And I'm wondering if it's about the same mindset I'm in. I remember when my grandfather got sober, and he was really trying his best to do a new album, without the same dark edge on it. I've been thinking on it and thinking on it and thinking on it, and writing and writing and writing.
"And I don't want to go too all the way right," he added. "I don't want to stay in the dark. I want it to have a real impact on anybody. People who have been sober their whole life, people who have been sober for just a little bit. People who aren't sober. I just want it to be something that my kids can enjoy. Something that everybody can enjoy."
Jesse Keith has also been releasing music, which he says is deeply influenced by his late father, while also allowing him to express his own creativity, separate from the country music legend, as well.
"Vocally, his music and my music are very different but at the same time, they are somewhat similar. He was absolutely an influence on my music for sure," Jesse Keith previously told the Digital Journal.
Keith Whitley will be posthumously inducted into the Country Music Hall of Fame later this year. It's an honor  Lorrie Morgan, Keith's wife and Jesse Keith's mother, says is well-deserved.
"In my heart, this feels like an absolutely appropriate honor, but at the same time, I know that Keith would be painfully humbled, and even shy about accepting an induction into the Country Music Hall of Fame," Morgan said. "Music was all about emotion to Keith. It was personal. There were so many great artists he admired, even worshipped. To stand in their company in the Hall of Fame would've been overwhelmingly emotional for him.
"I am thrilled to see him honored this way," she added, "and for what it means to my children, Morgan and Jesse Keith; to Keith's grandchildren; the Whitley family; and to the many, many fans who continue to point to Keith as one of the all-time greats."