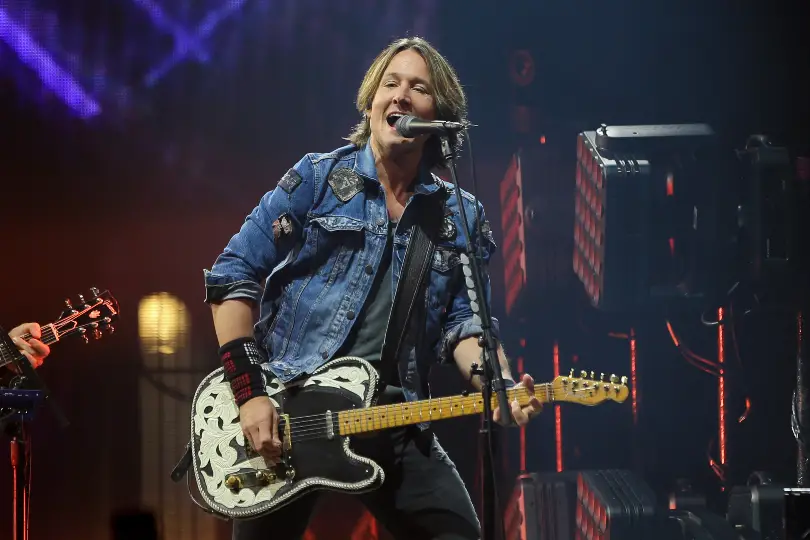 Keith Urban is back with a new single, marking his first new release of 2022! The New Zealand-born singer just released "Brown Eyes Baby," which follows his recent Top 5 hit, "Wild Hearts,"
Both "Wild Hearts" and "Brown Eyes Baby" are from a new album. Urban's last record, The Speed of Now Part 1, was released in September of 2020.
"Lots of new music that I've been working on in the last really solid year and a half — most of '21 into this year; piecing things together," Urban shares with his record label. "Lots of recording and feeling certain songs starting to come together to make a cohesive body of work. And we're actually going to probably slip one into the set, at least one if not a couple."
Urban introduced "Brown Eyes Baby" on his The Speed of Now World Tour, where he is grateful to be reunited with his fans — time that was taken away from him during the pandemic. Still, while thankful to be touring again, the father of two says he tries to always be grateful, even in hard times.
"I think I didn't need the pandemic to be grateful for a lot of things," Urban said on the Today Show. "I really already was. But I can tell the audience has a new love and appreciation for the moment."
"It's something that I have to be mindful of," he says of choosing thankfulness. "There's always enough things to be grateful for. The negative things may outweigh them, but it doesn't mean there's nothing to be grateful for. You just gotta find that one thing, and then you're gonna find the second one. I'm not saying it's easy, or that I'm very good at it, but I try to get better at it."
Urban also recently released another song from his next project, "Nightfalls."
"Writing 'Nightfalls' with Greg Kurstin and Mozella was pure joy," Urban says (via Music-News). "Two summers have gone by with no way to tour and the desire to have that feeling again inspired every part of this song and recording. In a world so full of real struggles and fractures, I wanna try and bring something to help us exhale and be in the moment – if only for three minutes and 41 seconds."
All of Urban's music and tour dates can be found at KeithUrban.com.