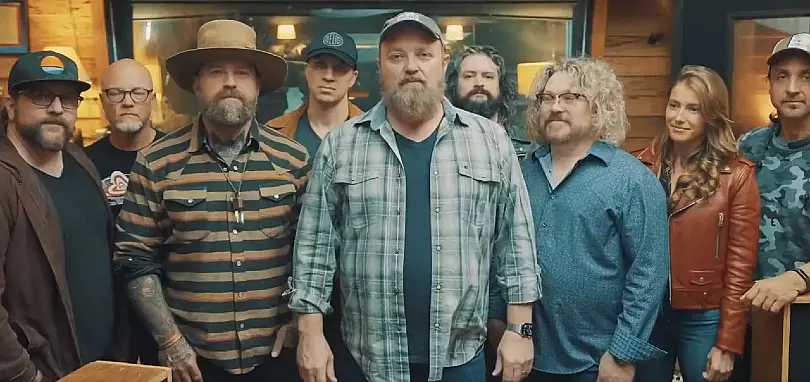 Zac Brown Band member John Driskell Hopkins recently revealed he has amyotrophic lateral sclerosis, otherwise known as ALS. The multi-instrumentalist is opening up about his health struggles, in honor of Global ALS Awareness Day, which falls on June 21.
Hopkins reveals he began noticing some mobility and stability issues, as well as issues with his performance, in 2019. At the time, doctors advised him to go off some medication he had been taking to lower his cholesterol, assuming his issues were side effects. Unfortunately, his condition continued, and as COVID-19 forced everyone to isolate at home, it was a long time before Hopkins was able to receive the proper care for his lingering symptoms.
"It was kind of hard to localize what it was that was bothering me, but I kept telling people, 'There's something wrong with me,'" Hopkins tells Fox News. "If I got angry or if I got emotionally happy or showed some sort of any sort of emotional response, and then I would walk across the room, my knees would kind of lock up. The only thing I could liken it to is cerebral palsy where if one gets emotional, one doesn't have as much control over their muscles."
Hopkins, affectionately known as "Hop" to his friends, family and fans, was diagnosed at the end of 2021, but waited until May to share the disappointing news with the world.
"When you hear something like that, the world gets really small and the anxiety was pretty rough," the father of three admits. Still, after doing a lot of research, and starting his own Hop On a Cure nonprofit to help fund research for ALS, Hopkins says he is in a much different place now than he was when he was first diagnosed.
"I'm in a different place now," he admits. "But I also believe that my progression is very slow, and I'm hoping that it continues to be very slow and that I'm able to perform for many years as we continue to find new solutions."
Hopkins is also determined to dig deeper to find out what causes ALS, and why he might have been afflicted with the illness.
"The truth is that there are still a lot of questions about it, and it could be any number of different diseases that lead to this symptom," Hopkins says, speaking of his stability challenges. "Why do football players seem to get it? Why? Maybe it's head trauma. You know, why do young people get it? Maybe it's environment. Maybe it's their internal biome. I've been known to have about a beer and pizza in my day and my doctors have assured me that that's not it.
"We don't know what it is," he adds. "So it leads us to the question, 'Well, if we don't know what's causing it, how do we know how to fix it?' It's a multifaceted problem."
For now, Hopkins vows to keep playing with the Zac Brown Band for as long as he can, determined to make the most of his abilities for as long as possible.
"One of the beautiful things about my condition, if God-willing it remains the way it is for a couple of years, is I have the energy and the presence to make a big impact," Hopkins tells People. "I'm ready to go. I can still play, I can still sing, I can still make records — and I want to do all that. I'm trying to record everything I can in the event that one day I might not be able to."
More information on Hop On a Cure can be found here.